Plastic Surgery Center of the South
120 Vann Street Northeast #150
Marietta, GA 30060
Phone: (770) 421-1242
Monday-Friday: 9 a.m.–5 p.m.

Liposuction
No matter what you do, it may seem as though certain trouble spots just won't go away. There are plenty of men and women just like you, and many of them have chosen to take control of their appearance using cosmetic surgery. Liposuction is a popular and effective option at our metro Atlanta practice in Marietta, GA, for reducing those stubborn fat deposits and creating a more toned body shape.
To discover how our body contouring procedures can improve your look, request a consultation online to meet with one of our board-certified plastic surgeons in person or call us today at (770) 421-1242. People visit us for liposuction from Smyrna, Roswell, and Sandy Springs, GA, and other surrounding communities.
How Much Does Liposuction Cost in Atlanta?
Surgeon fees for liposuction at our metro Atlanta practice typically range from $750 to $3,000 for a single area. Your total cost will depend on the size and number of areas being treated and whether your liposuction is combined with other procedures. The total cost of your surgery will include operating room and anesthesia fees, which are comparable to those at other practices in the area. During your consultation, you will be provided with an estimate of how much your specifice liposuction procedure will cost.
Candidates for Liposuction
Liposuction provides an excellent way to shape the contour of your body by reducing localized fat that does not respond to dieting or exercise. If you are considering this procedure, here's what you need to know:
The best candidates are in good health, with firm elastic skin and pockets of excess fat.
It is not a substitute for weight loss. You should be at or near a healthy weight for approximately 3 to 6 months before undergoing liposuction.
It is ideal for correcting unwanted fat deposits on specific areas of the body. These areas, which typically differ between men and women (see illustration), include the face, neck, upper arms, back, abdomen, buttocks, hips, thighs, knees, calves, and ankles.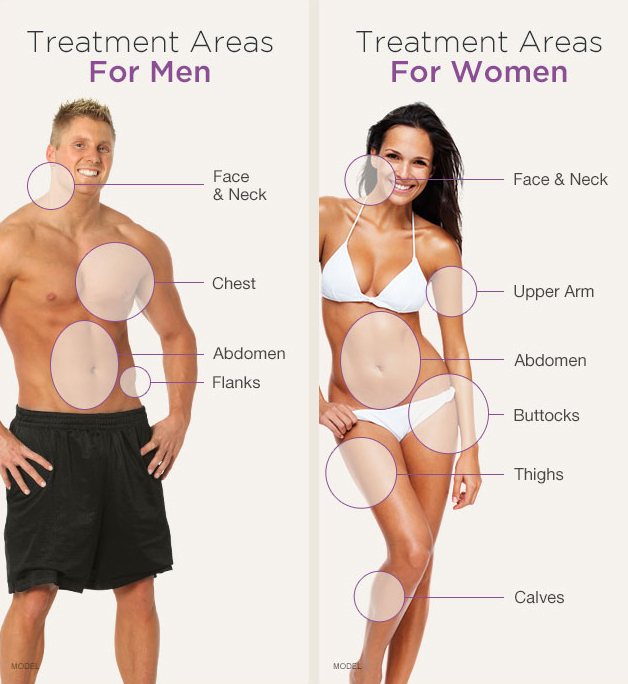 At your consultation, your surgeon will talk with you about the improvements you want to gain and develop a body contouring treatment plan that meets your individual goals.
Can Liposuction Be Combined With Other Procedures?
Our surgeons often combine liposuction with other plastic surgery procedures such as a tummy tuck, breast augmentation, or facelift. Liposuction is also an essential part of fat transfer at our Atlanta-area practice. Fat transfer, also called fat grafting, is a procedure that uses unwanted fat from one area of your body to augment another area, such as the breasts or buttocks.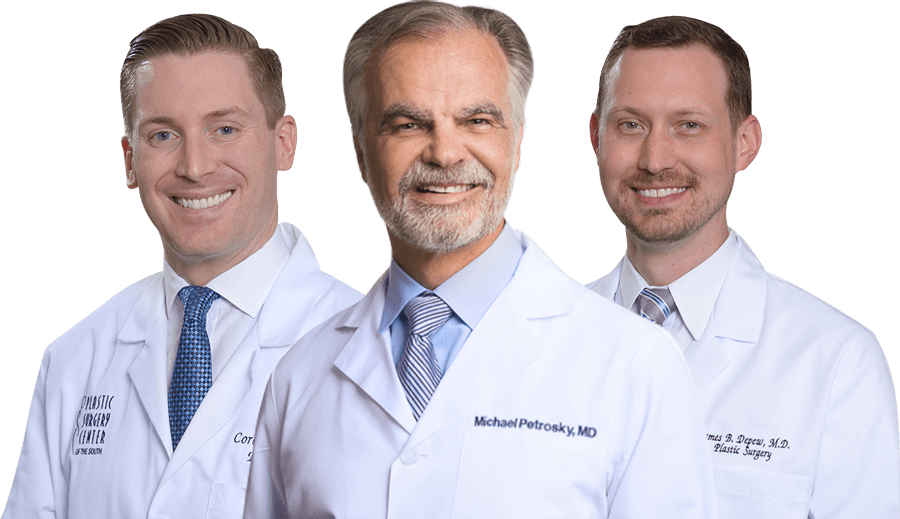 Meet Our Surgeons
Committed to the core values of ethics, integrity, honesty and education, our board-certified plastic surgeons draw patients from Atlanta and across the U.S.
Credentials You Can Trust

Request Your Consultation
Liposuction vs. Tummy Tuck
Liposuction usually cannot take the place of a tummy tuck because these procedures provide different improvements. Liposuction is used to remove excess fat on the belly and other areas. A tummy tuck tightens lax skin and stretched abdominal muscles after pregnancy and significant weight loss. Many tummy tuck procedures include liposuction to fine-tune the results by sculpting the hips, waist, and other areas.

An Award–Winning Team
Plastic Surgery Center of the South won Family Life magazine's "Best Of" contest for Canton for 2016, 2018, and 2019, and for Woodstock in 2017. Experience our difference for yourself.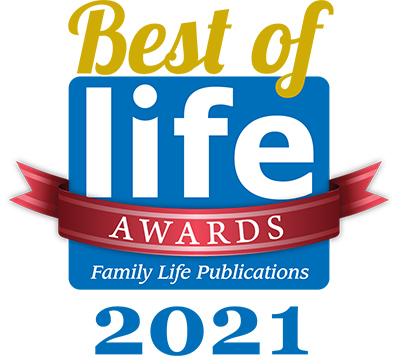 How Is Liposuction Performed?
Our surgeons usually perform liposuction as an outpatient procedure with the patient under general anesthesia or local anesthesia with sedation. The surgeon begins by making small incisions near the areas of unwanted fat and injecting the fat with a medicated tumescent solution until the areas become firm. The fluid is a mixture of intravenous salt solution, lidocaine (a local anesthetic), and epinephrine (a drug that constricts blood vessels). This technique provides the following benefits:
Allows the fat to be removed more easily
Reduces blood loss, swelling, and bruising
Provides anesthesia during and after the surgery
Next, the surgeon inserts a suctioning tube called a cannula to remove excess, unwanted fat cells. The surgeon then closes the small incisions using a few fine sutures. We apply dressings and place a special postoperative compression garment over treated areas. We remove the few sutures within a week, and your surgeon instructs you to wear a surgical garment for several weeks or longer depending on the specifics of your procedure.
How Long Does It Take to Recover From Liposuction?
Return to work or school will vary from a few days to several weeks depending upon the extent of your operation. Avoid strenuous activity for several weeks as your body continues to heal. Your plastic surgeon will instruct you as to when you can return to physical activities.
Tips for Recovery
Stock up on towels. For the first few days, it is normal to have drainage from the incisions as the tumescent fluid is eliminated from the body.
Double up on compression garments. You will be able to keep areas wrapped securely with one garment while the other is in the wash.
Don't be alarmed. Treated areas may feel numb and firm initially; as your body heals, the tissues will soften up.
While the lidocaine in the tumescent fluid should keep you comfortable initially, expect to feel stiff and sore for a few days. You should be able to control any discomfort with prescription pain medication. Your physician may prescribe an herbal supplement to take before surgery in order to help minimize the bruising and swelling.
We will give you a snug elastic compression garment to wear over the treated area at all times for the first few weeks. This garment will help control swelling and help your skin adhere to its new contours.
It is important that you get up and start walking around as soon as possible after your liposuction surgery to reduce swelling and prevent blood clots from forming in your legs. This is especially important if you have combined liposuction with another procedure such as a tummy tuck.
How Safe Is Liposuction?
While liposuction like all surgical procedures involves risks, the risk of complications is usually associated with the amount of fat removed, as well as the surgeon's skills and specific training. The most common complication is skin surface irregularities. Patients with normal elasticity and skin tone will have minimal or no irregularities. Pigmentation changes, numbness, and asymmetry also may occur. If a large volume liposuction (greater than 5,000 cc) is performed, you may be kept overnight to be monitored and given IV fluids and medications. At Plastic Surgery Center of the South, our patients' safety is our utmost concern.
Your Liposuction Results
Liposuction is a highly effective technique for giving you an enhanced body contour with minimal scars. If you do gain weight afterward, you will gain it more uniformly throughout your body, not just in former bulges.
Liposuction can enhance your appearance and self-confidence and make you more at ease with your body. You might find that you are more comfortable in a wide variety of clothes, feel better about your body, and have more self-confidence with your new enhanced appearance.
Liposuction FAQ
Will the fat come back after liposuction?
Fat cells that are removed during liposuction cannot grow back. However, if you gain weight in the future, remaining fat cells including those in the treated areas will increase in size and possibly form new bulges. You can maintain your slimmer contours by exercising regularly and eating right.
I hear about so many kinds of liposuction these days; which one is best?
A lot of marketing efforts go into promoting technology that is supposed to make liposuction better. Whether with a laser, ultrasound energy, or even water, these "types" of liposuction actually supplement traditional tumescent liposuction by liquefying the fat before it is suctioned out. But, advanced technology is costly and may introduce unnecessary complications. Our surgeons believe that the additional expense and risks are not worth the benefit to the patient. They have years of experience providing consistently smooth, attractive results with tumescent liposuction for metro Atlanta, GA patients without added safety risks or a higher price.
Why do some doctors have limits on how much fat they remove?
Reputable liposuction surgeons consider patient safety and the quality of their results over removing a specific quantity of fat. If too much fat is removed, the possibility of complications increases and there is a risk of a lumpy, uneven appearance. Instead of helping you reach your weight-loss goal, our surgeons will make sure that liposuction is a safe procedure for you and that you end up with the attractive results you want.
How many areas can you treat in one surgery?
Our surgeons regularly perform liposuction on multiple areas at one time. The specifics depend on a variety of factors including the patient's health, number of areas being treated, and the overall fat removal goal. Patients who have several large areas in need of treatment, such as people who have lost a lot of weight through bariatric surgery, will need to have their liposuction performed in stages. The surgeon may focus on the upper body in one procedure and the lower body in a second procedure after the patient has recovered from the first procedure. At our practice, the top priorities are always the patient's safety and well-being.
Can liposuction be used on the face?
Yes. Liposuction is an excellent way to sculpt the jawline and neck and remove a double-chin. Our surgeons often perform liposuction as part of a facelift or neck lift procedure.
Can liposuction take care of the tummy bulge I developed after pregnancy?
Possibly, if fat is the cause of your tummy bulge. However, pregnancy often does more to a woman's body than increase fat stores; it stretches the abdominal skin and muscles. Distended abdominal muscles can make the tummy bulge out. Exercise alone cannot return the area to its naturally flat form. You may need a tummy tuck as well.
Does liposuction treat cellulite?
For most people, the appearance of cellulite doesn't change drastically after liposuction. Cellulite is caused by fibrous bands that pull the skin down from within and form dimples on the surface. Liposuction improves body contours, but it doesn't target the cause of cellulite.
Can I do something about my love handles without surgery?
While liposuction is the most effective way to reduce areas of isolated fat, our surgeons offer 2 non-surgical alternatives that can provide a noticeable reduction in fat: the CoolSculpting® procedure and Lipodissolve. The CoolSculpting procedure reduces fat by freezing the fat cells from the outside without harming the surrounding skin and tissues. Lipodissolve involves injections of a natural compound that breaks down the fat. Both treatments provide results gradually over time.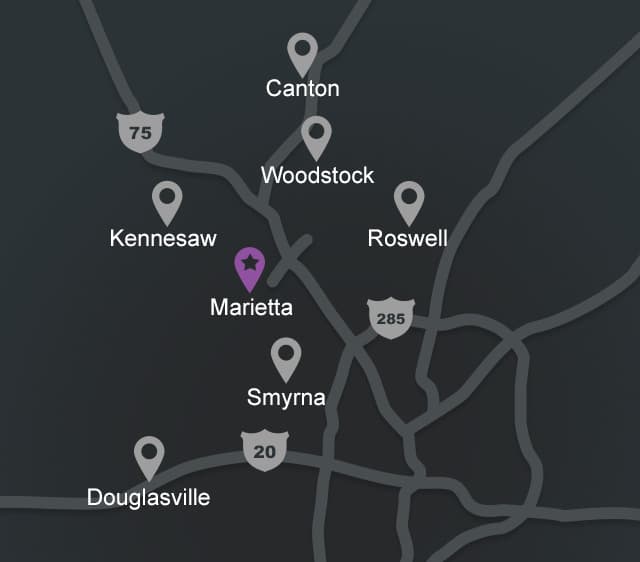 How to Visit Us in Marietta
Because of our top-notch patient care and beautiful results, Plastic Surgery Center of the South has built a strong reputation in the region. If you are interested in visiting our Marietta practice from a nearby community, choose your area below to get easy-to-follow driving directions.
Roswell
Canton
Smyrna
Douglasville
Kennesaw
Woodstock
Back to Top