Plastic Surgery Center of the South
120 Vann Street Northeast #150
Marietta, GA 30060
Phone: (770) 421-1242
Monday-Friday: 9 a.m.–5 p.m.

Lower & Upper Eyelid Surgery
Lower & Upper Eyelid Surgery
In metro Atlanta, one of the most requested plastic surgery procedures is blepharoplasty, often called an eyelid lift or eyelid surgery. The board-certified plastic surgeons at Plastic Surgery Center of the South perform this procedure to rejuvenate the eyes to give patients a more youthful, rested appearance. This procedure can correct loose, baggy skin under the eyes and also improve drooping upper eyelids.
If you are considering facial cosmetic surgery, call us today at (770) 421-1242 and we can help answer your questions. Or, take the next step and request a consultation online to meet with our doctors in person. Women and men visit us for eyelid surgery from metro Atlanta cities such as Smyrna, Roswell, and Sandy Springs, GA.
Your Refreshed Look With Eyelid Surgery
During the eyelid surgery procedure, your Marietta plastic surgeon removes excess fat, muscle, and skin from the upper, lower, or both sets of eyelids. If excess eyelid skin is hanging over your eyes, the procedure will also improve your field of vision. It can also be used to correct a medical condition called ptosis (drooping eyelid), which is caused by poor muscle tone or nerve damage. Ptosis causes the eyelid to hang very low and block vision. You may only need the upper eyelids treated for a great result or you may benefit from both the upper and lower eyelids being done simultaneously.
Eyelid surgery can be performed by itself or in conjunction with other procedures such as a facelift, brow lift, or BOTOX® Cosmetic.
What Is the Difference Between a Brow Lift and Blepharoplasty?
While upper blepharoplasty removes excess skin and fat from the upper eyelids, a brow lift corrects droopy eyebrows, sagging tissue at the outer part of the eyes, and crow's feet. Raising the brow can also have a dramatic effect on the appearance of the eyelids. Often these procedures are combined to completely rejuvenate the eye area.

How Is Eyelid Surgery Performed?
Eyelid surgery is usually performed on an outpatient basis using local anesthesia with sedation or under general anesthesia. The time required for the procedure on both upper and lower eyelids is one to three hours depending on the extent of the surgery.
In a typical procedure, incisions will be made in the creases of your upper lids and just below the lashes in the lower lids. The excisions may extend into the crow's feet or laugh lines at the outer corners of your eyes. Your surgeon will separate the skin from underlying fatty tissue and muscle, reducing excess fat, and often trimming sagging skin and muscle. Fine sutures are placed to close the incisions.
If puffy lower eyelid bags are the only concern, a transconjunctival blepharoplasty will be performed. In this procedure the incision will be made inside the lid leaving no visible scar. This is normally done for younger patients with thicker, more elastic skin.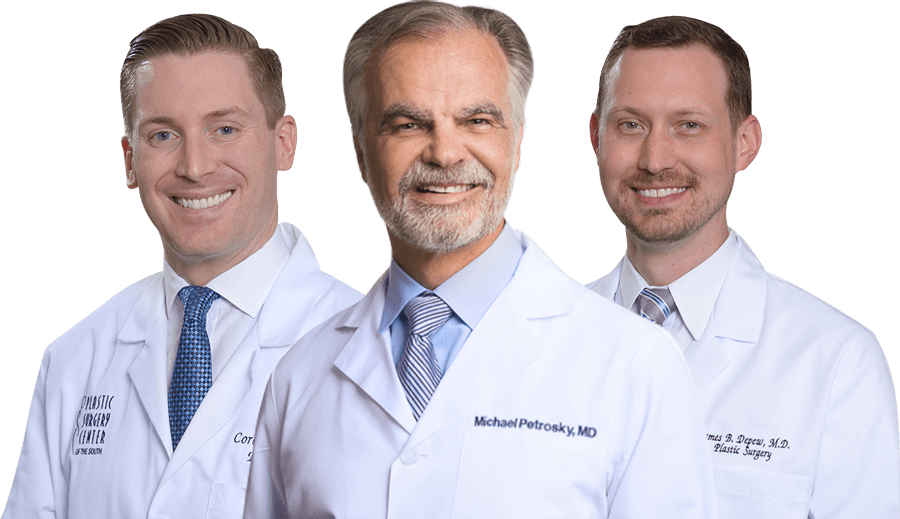 Meet Our Surgeons
Committed to the core values of ethics, integrity, honesty and education, our board-certified plastic surgeons draw patients from Atlanta and across the U.S.
Credentials You Can Trust

Request Your Consultation
An Award–Winning Team
Plastic Surgery Center of the South won Family Life magazine's "Best Of" contest for Canton for 2016, 2018, and 2019, and for Woodstock in 2017. Experience our difference for yourself.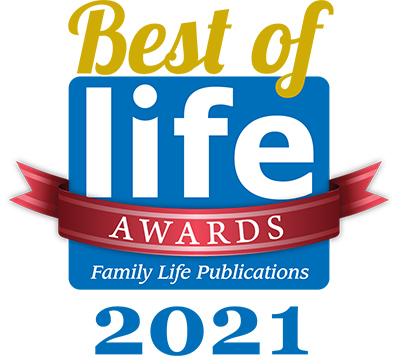 What Can I Expect After Eyelid Surgery?
After surgery, you may experience some swelling and bruising around the eyes. Fortunately, the post-operative discomfort is usually minimal and easily controlled with medication. You will be instructed to:
Apply cold compresses on the eyes for the first day or two.
Keep your head elevated for several days to help control the swelling.
Cleaning your eyes because they may be gummy for a few days.
Your physician may recommend eye drops to relieve any dry or itchy feeling you may experience. You may also experience excessive tearing, blurring of vision, or sensitivity to light. These are all normal and nothing to be concerned about. The sutures are removed within the first week.
What Can You Do After Eyelid Surgery?
You will be able to watch television or read after two or three days. If you wear contacts, you will not be able to wear them for about two weeks. Most patients return to work in a week depending upon the extent of the bruising and swelling. It is important that for the first few weeks you avoid activities that raise your blood pressure, including bending, lifting and rigorous sports. Your physician will inform you when you are able to return to normal activities. Healing is a gradual process and your scars may remain pink for six months or more. Eventually, they will fade to a thin, nearly invisible white line.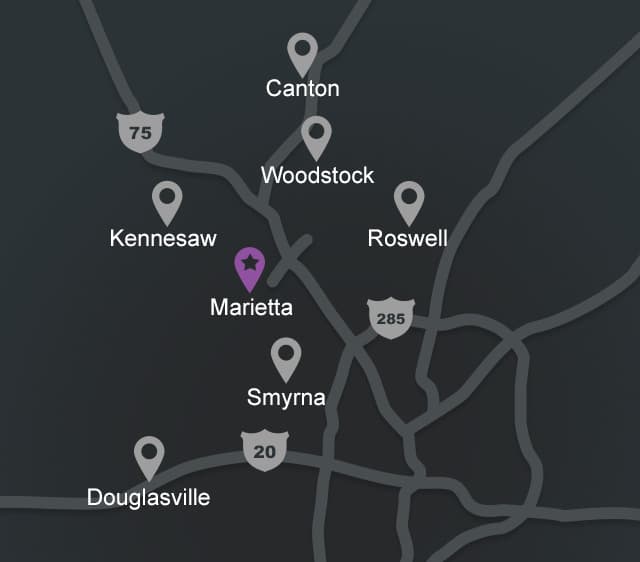 How to Visit Us in Marietta
Because of our top-notch patient care and beautiful results, Plastic Surgery Center of the South has built a strong reputation in the region. If you are interested in visiting our Marietta practice from a nearby community, choose your area below to get easy-to-follow driving directions.
Roswell
Canton
Smyrna
Douglasville
Kennesaw
Woodstock
Back to Top