Plastic Surgery Center of the South
120 Vann Street Northeast #150
Marietta, GA 30060
Phone: (770) 421-1242
Monday-Friday: 9 a.m.–5 p.m.

Common Questions
What is the difference between a breast augmentation and a breast lift?
A breast augmentation is recommended for Atlanta women who desire plastic surgery to increase their breast cup size and fullness. This is achieved by placement of a breast implant. A breast lift (or mastopexy) is recommended for patients whose concern is breast sagging, and who do not want breast implants. The patient's stretched breast skin is removed, and the existing tissue is adjusted upward on the chest to a higher position. A breast lift does not substantially increase breast size. If a patient is concerned with both breast size and sagging, a combination of augmentation and mastopexy may be recommended.
If a patient undergoes breast augmentation, do the implants have to be replaced after a certain number of years?
Although breast implants cannot be guaranteed to last for a lifetime, there is no reason to plan to have them replaced after 5, 10, or even 15 years if the patient is not having any problems.
How large can a patient having a breast augmentation go?
It is recommended that a patient can realistically expect to increase their breasts by one to two cup sizes. Example: A patient who is currently an A cup can increase to a B or C cup, but usually not to a D cup. Of course, this would need to be discussed with your plastic surgeon thoroughly before surgery.
How much weight can a patient lose through liposuction?
Liposuction does remove fat, and does decrease the size of the area treated. However, unless a patient has liposuction to multiple areas performed, there may not be a dramatic weight loss. There may even be a slight weight gain for the first few weeks after surgery, as a result of swelling and fluid retention. Patients are advised to look at the decrease in inches, rather than pounds.
What is the difference between liposuction and a tummy tuck?
Liposuction is removal of fat cells between the skin and underlying tissues. The fat cells are suctioned through a cannula (small hollow tube), and the incisions are very small. A tummy tuck (or abdominoplasty) involves removal of excess skin and fatty tissue of the abdomen, and if necessary, suturing of the abdominal muscle if it has become stretched or separated. An incision is usually made in the lower abdomen. A tummy tuck is a much more involved cosmetic surgery procedure than liposuction. Atlanta men and women who have stretched skin and/or excess abdominal tissue will usually experience a better result with a tummy tuck.
How long does the swelling and/or bruising last after facial plastic surgery?
Expect bruising and swelling after eye surgery, nose reshaping, and facelift procedures for approximately 2 to 3 weeks after surgery. Usually after the first week to week and a half, patients can use makeup to cover any remaining bruising or swelling. It is also not unusual for the skin to remain numb for quite a few weeks after surgery, and sensation returns slowly.
Is a facelift or eyelift permanent?
Both facelifts (rhyditectomy) and eyelifts (blepharoplasty) can "turn back the clock" and help a patient appear years younger, but surgery cannot "stop the clock." The patient's skin and underlying tissues will continue to age as they normally would otherwise.
What kind of scarring results from a nose job?
Usually during a nose job, incisions are placed inside the nasal cavities where they are not visible after surgery. However, do expect drainage, swelling (both internal and external), and numbness, and the feeling of a "stuffy nose" after reshaping (rhinoplasty).
What can be done about stretch marks?
Other than exercising or removing the affected skin, nothing surgically can be done for existing stretch marks.
What is the difference between a plastic surgeon and a cosmetic surgeon?
Plastic surgeons receive 4 years of medical school training, 3 to 5 years of general surgery training, and an additional 2 to 3 years of plastic surgery training. Cosmetic surgeons may be trained in other medical specialties, but are not trained in any plastic surgery techniques during their original medical training. Training in a procedure may involve a 2 to 3 day weekend course. Make sure the surgeon you choose is appropriately trained and experienced in the procedure you are considering.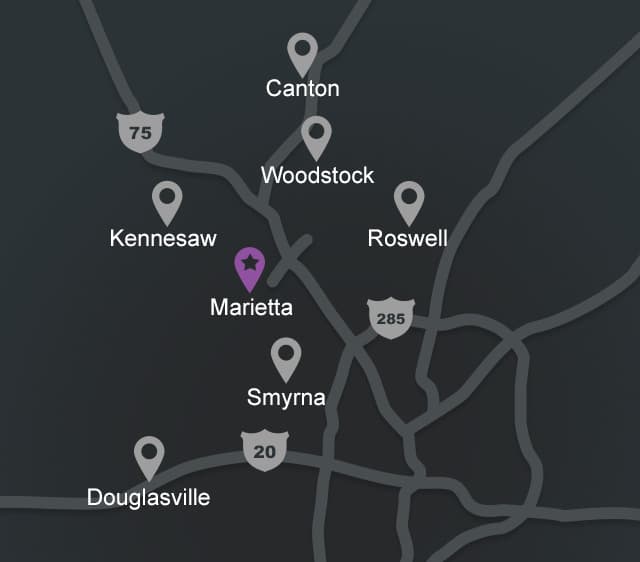 How to Visit Us in Marietta
Because of our top-notch patient care and beautiful results, Plastic Surgery Center of the South has built a strong reputation in the region. If you are interested in visiting our Marietta practice from a nearby community, choose your area below to get easy-to-follow driving directions.
Roswell
Canton
Smyrna
Douglasville
Kennesaw
Woodstock
Back to Top