Plastic Surgery Center of the South
120 Vann Street Northeast #150
Marietta, GA 30060
Phone: (770) 421-1242
Monday-Friday: 9 a.m.–5 p.m.

Lip Augmentation
Plumper, fuller appearing lips can be achieved at Plastic Surgery Center of the South with lip augmentation. In Atlanta, lip augmentation is a very popular procedure with patients from Smyrna, Roswell, and Sandy Springs, GA, and other nearby areas. Our practice offers many options to enhance your lips or reduce the wrinkles and fine lines around your mouth.
It is up to you to determine the extent of your lip enhancement and how long you'd like your results to last. It is a personal preference that should be discussed thoroughly with your physician. Call us today at  (770) 421-1242 to set up your consultation.
Injectables for Fuller Lips
Lip augmentation can be done using dermal fillers or by surgically placing materials in the lips. Trying a non-permanent injectable is a great way to see how you feel about your new look. Injections are administered directly into the lips using an ultrafine needle, resulting in minimal discomfort with local anesthesia.
Restylane® is a safe and natural cosmetic dermal fillers made of non-animal based hyaluronic acid. Hyaluronic acid is a natural substance that already exists in the human body and is used to provide volume and fullness to the skin. Restylane is a very effective way to augment the lips and to correct mild to moderate facial wrinkles and folds from the nose to the corner of the mouth. Individual results may vary; however, studies show the Restylane will generally last for 6 to 12 months.
JUVÉDERM® Injectable Gel is a new filler material made of hyaluronic acid with more crosslinks and may last longer.
Sculptra® and Restylane SubQ are other injectable materials that can be used for soft tissue augmentation.
Collagen is a filler substance that does have a small risk of allergic reaction; some types require testing prior to injecting. Collagen is injected into areas where depressions, lines, or wrinkles can be raised to help the level of the surrounding skin. Thus, lines and scars can be minimized, texture is improved, and the skin has a softer and more even tone. Collagen lasts for 2 – 4 months. There are certain steps involved: a consultation, a skin test if required, the treatment injections and then periodic touch-ups.
RADIESSE® is a non-surgical facial contouring filler that delivers longer-lasting results. Whether you are longing to reverse the common signs of aging or address the lines that can make you look very serious or sad, even when your face is at rest. RADIESSE is made of very tiny, smooth calcium hydroxylapatite (CaHA) microspheres. These particles form a scaffold through which your body's own collagen grows and this produces the longterm effects. The longevity averages 11 to 18 months depending on the area of correction.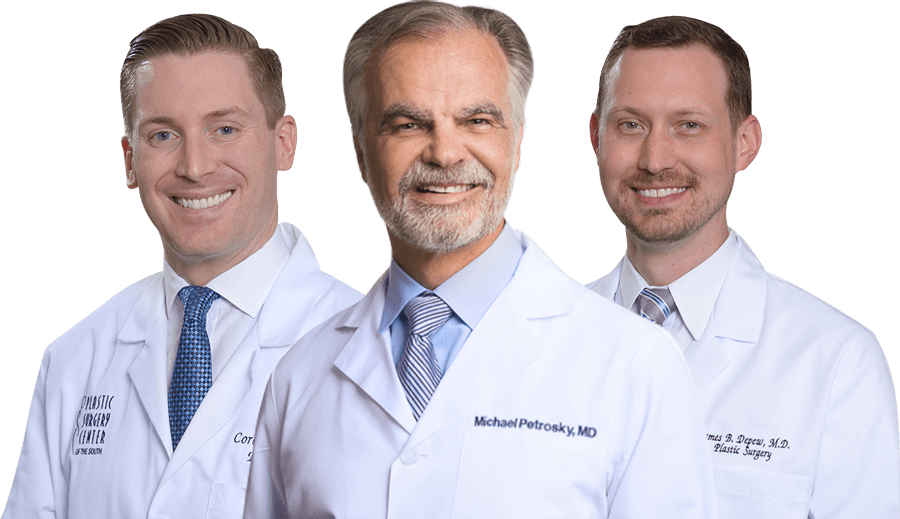 Meet Our Surgeons
Committed to the core values of ethics, integrity, honesty and education, our board-certified plastic surgeons draw patients from Atlanta and across the U.S.
Credentials You Can Trust

Request Your Consultation
An Award–Winning Team
Plastic Surgery Center of the South won Family Life magazine's "Best Of" contest for Canton for 2016, 2018, and 2019, and for Woodstock in 2017. Experience our difference for yourself.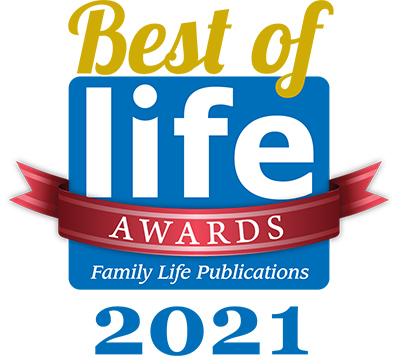 Options for Long-lasting Results
So you have experienced the short-term effects of the injectables and are now ready to proceed to long-lasting lip augmentation. The procedure can be done in the minor procedure room at Plastic Surgery Center of the South. You will receive a local anesthetic and the procedure will last about an hour or two. You have a couple of options.
AlloDerm® grafts are obtained from donated human skin supplies from the U.S. tissue banks. The AlloDerm graft is processed into a dermal graft and then surgically implanted into your lips. Small incisions are made in the inside corners of your lip and then a tunnel is made where the small implant (similar to a strand of spaghetti) is threaded through your lip. Your own body then grows tissue into the AlloDerm scaffolding, giving you a long-lasting result.
Fat injections for lip augmentation at our Atlanta practice involve inserting your own fat by surgical measures until you achieve the desired fullness. Your body will reabsorb some of the fat, which doesn't establish a permanent blood supply. Fat would be taken from another portion of your body and then injected in the lips.
Dermal fat grafting is where dermis fat is taken from your old scars, known as the donor site, and implanted in a similar fashion as the AlloDerm into your lips. There is a potential risk that some of the fat will partially reabsorb.
SMAS/fat graft is the same as dermal fat grafting but is done in conjunction with facelifts. This again may partially reabsorb.
FULFILL (Saline) Lip Implant is a new lip prosthesis that is filled with saline and is long lasting. Sizes can vary.
Whether using injectable fillers or having an implant surgically implanted there may be risks and complications involved. However, risks are minimal and having fuller lips can greatly enhance your appearance. Communication between you and your physician is key. You can expect some degree of swelling and possible bruising. Apply ice to the area for the first 24 hours and try to keep your head elevated for the first 24 – 48 hours.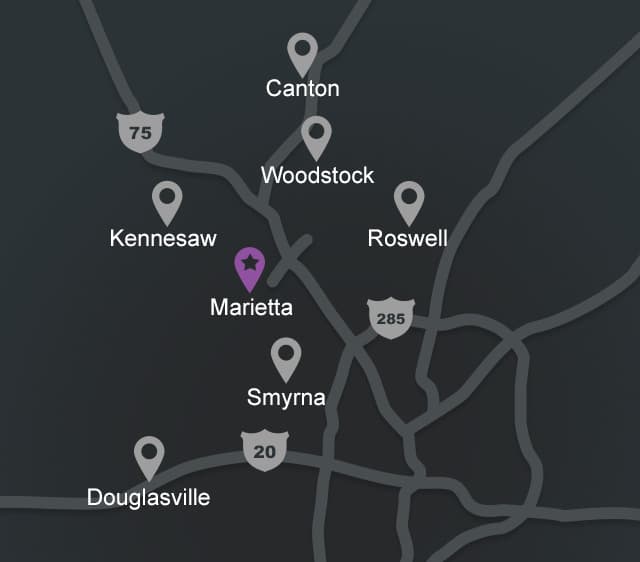 How to Visit Us in Marietta
Because of our top-notch patient care and beautiful results, Plastic Surgery Center of the South has built a strong reputation in the region. If you are interested in visiting our Marietta practice from a nearby community, choose your area below to get easy-to-follow driving directions.
Roswell
Canton
Smyrna
Douglasville
Kennesaw
Woodstock
Back to Top