Plastic Surgery Center of the South
120 Vann Street Northeast #150
Marietta, GA 30060
Phone: (770) 421-1242
Monday-Friday: 9 a.m.–5 p.m.

Our Patient Loyalty Program
Our Patient Loyalty Program
We deeply value the patients who trust our team of aesthetic specialists to provide exceptional service and results each time they visit. That's why Plastic Surgery Center of the South offers a loyalty program offering discounts on popular treatment packages, skin care products, other services for women and men who visit our plastic surgery practice in the Greater Atlanta area.
Saving Is Simple
We've developed a program that doesn't require patients to earn points or keep track of how many times they've visited or any other complicated method. You simply save at the time you schedule a package of skin rejuvenation treatments or post-surgical lymphatic massages.
If you're buying skin care products, you'll earn 50% off the 5th product you purchase.
Talk about simple.
Don't Miss Out—Sign Up for Our Newsletter
Signing up to receive our newsletter ensures you'll be in the loop about our special events and learn about the latest treatment that's causing a buzz. Additionally, you can be sure to stay up to date on our monthly specials.
Discounted Med Spa Treatments & Services
Save on the following treatments and services at our Marietta, GA, medical spa:
Microdermabrasion: Package of 6 treatments—$400
Dermaplaning: Package of 6 treatments—$400
Microneedling: Package of 4 treatments—$1200
SkinMedica® medium depth chemical peels: Package of 4 treatments—$714
PCA light depth chemical peels: Package of 4 treatments—$425
Laser skin treatment for pigmented lesions, plus light PCA chemical peel: 1 treatment—$250
Lymphatic massages: Buy a package of 6 at $480 regular price and get 10% of the 2nd full package of 4 or more massages
Skin Care Products
We'll give you a loyalty program card when you first purchase a skin care product at our practice. On your 5th purchase, you'll get 50% off the product's regular price.
Schedule a Consultation
If you're not sure about which treatment is best for your concerns, use our Treatment Planner to help find your options. Then use the online form to request a consultation with our esthetician or call (770) 421-1242 to schedule an appointment.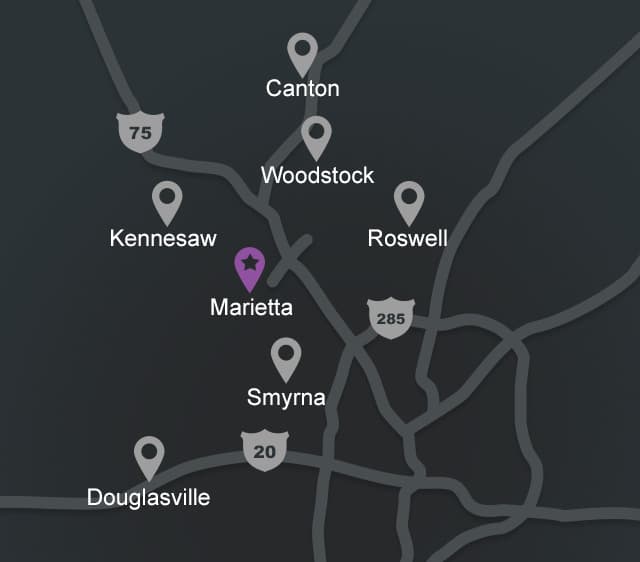 How to Visit Us in Marietta
Because of our top-notch patient care and beautiful results, Plastic Surgery Center of the South has built a strong reputation in the region. If you are interested in visiting our Marietta practice from a nearby community, choose your area below to get easy-to-follow driving directions.
Roswell
Canton
Smyrna
Douglasville
Kennesaw
Woodstock
Back to Top