Plastic Surgery Center of the South
120 Vann Street Northeast #150
Marietta, GA 30060
Phone: (770) 421-1242
Monday-Friday: 9 a.m.–5 p.m.

Dermabrasion
Dermabrasion, also known as skin refinishing, is a procedure to help refinish or repair the top layers of your skin through a method of controlled surgical sanding. The abrasive action improves your skin contour, giving your skin a smoother appearance. This can enhance your self-confidence. Dermabrasion is most commonly used to improve the appearance of facial skin due to acne scars, pox marks and scars resulting from accidents or previous surgeries. It also helps smooth out fine facial wrinkles found around your mouth and other skin conditions such as liver or age spots and skin lesions.
Young and old, women and men can benefit from dermabrasion at our Atlanta area practice. At Plastic Surgery Center of the South, one of our board-certified plastic surgeons can help you understand the procedure. Request a consultation online or call  (770) 421-1242 to discuss your options and review your individual circumstances.
Dermabrasion improves your skin's contour for a smoother appearance.
What to Expect During Your Dermabrasion Treatment
Treatment can be done in our office or as an outpatient procedure; it may be combined with other surgical procedures. The procedure itself can take a few minutes to an hour and a half depending of how large an area is being done. A high-speed rotary instrument with an abrasive wheel is used to remove the outer layers of skin until your plastic surgeon reaches the safest level that will make your imperfections less visible.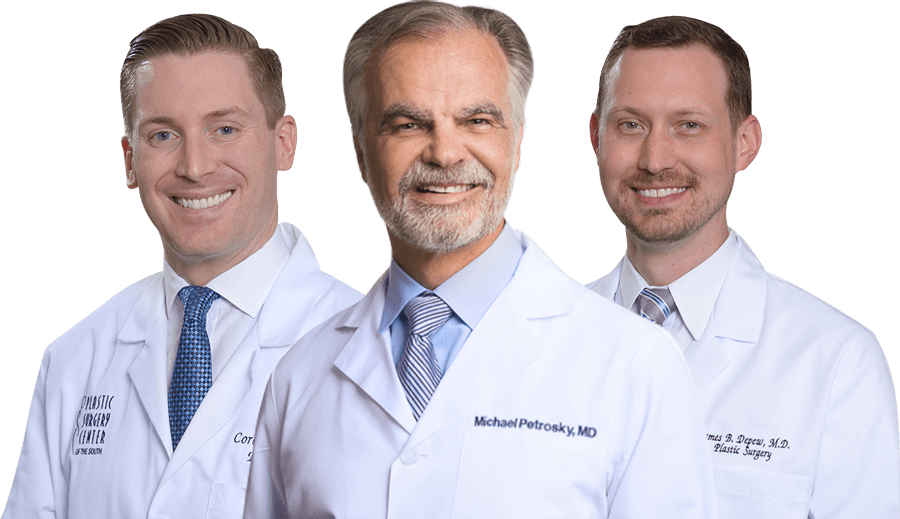 Meet Our Surgeons
Committed to the core values of ethics, integrity, honesty and education, our board-certified plastic surgeons draw patients from Atlanta and across the U.S.
Credentials You Can Trust

Request Your Consultation
An Award–Winning Team
Plastic Surgery Center of the South won Family Life magazine's "Best Of" contest for Canton for 2016, 2018, and 2019, and for Woodstock in 2017. Experience our difference for yourself.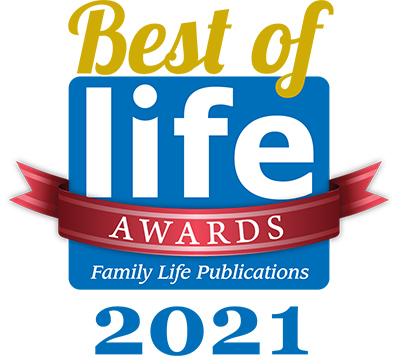 Recovering from Dermabrasion
After the treatment your skin will feel as though it has been severely brush-burned for a few days. It will be red and swollen and you might feel some tingling or aching sensations. Any discomfort can be controlled easily with medication and should last for only a few days. A crust will form over the treated area as it begins to heal. Your face may itch as new skin grows. We will prescribe an ointment to make it more comfortable. The crust will fall off in 7 to 10 days revealing newly formed skin, which is pink at first, but gradually develops to a more normal color. In most cases, the pinkness largely fades by 6 to 8 weeks. Make-up can be worn as cover-up as soon as your skin is healed. There can be a mild lightening of skin color.
Your new look can offer dramatic improvements to the surface of your skin, but it will take several months before you see final results. Avoid unnecessary direct and indirect sunlight for 3 to 6 months after the procedure and use sunscreen on a regular basis when outdoors.
For all of your make-up and sunscreen needs please call our certified esthetician at Plastic Surgery Center of the South. We carry a wide selection of quality cosmetics and skin care products. Our product lines include a number of skin correction, anti-aging, and wrinkle-reducing ingredients. To learn more, visit our Medical Spa.
We also offer non-surgical alternatives such as microdermabrasion and chemical peels. Plastic Surgery Center of the South is located outside of Atlanta, Georgia. Call us today at  (770) 421-1242 to set up your consultation. Our offices our conveniently located to serve patients all over Georgia and well as other states and countries.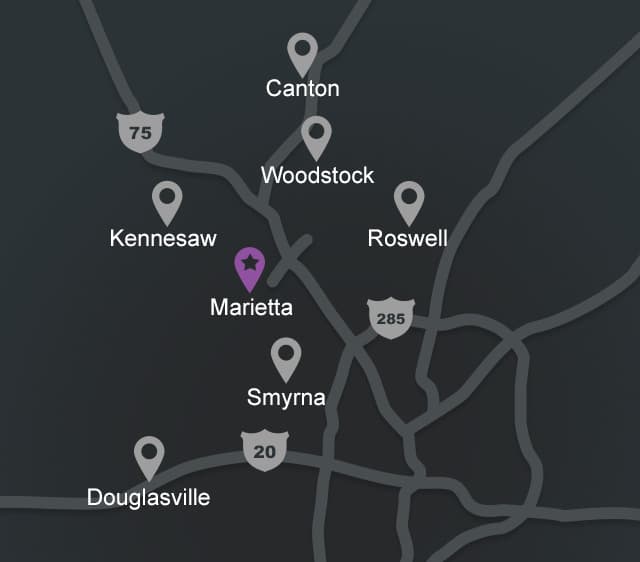 How to Visit Us in Marietta
Because of our top-notch patient care and beautiful results, Plastic Surgery Center of the South has built a strong reputation in the region. If you are interested in visiting our Marietta practice from a nearby community, choose your area below to get easy-to-follow driving directions.
Roswell
Canton
Smyrna
Douglasville
Kennesaw
Woodstock
Back to Top