Plastic Surgery Center of the South
120 Vann Street Northeast #150
Marietta, GA 30060
Phone: (770) 421-1242
Monday-Friday: 9 a.m.–5 p.m.

Tummy Tuck Recovery
Time, pregnancy, or weight loss can take a significant toll on the appearance of the midsection. If you are considering a tummy tuck (abdominoplasty) in metro Atlanta, GA, one of the top considerations is downtime and discomfort following the procedure. After all, you want to maximize comfort and minimize your time away from work, family life, and other activities.
Because of the extent of tummy tuck surgery as well as the number of nerves found in the abdominal area, recovery following a tummy tuck, can involve a few days of discomfort. However, post-operative discomfort is well controlled with prescription medication for most patients.
In an effort to provide the best recovery experience, we offer an FDA-approved pain management system called EXPAREL®. This local analgesic medication is injected into the incision at the time of surgery, and then it is gradually released into the body during the next 3 days. EXPAREL can greatly reduce the need for oral pain medications in the days following your tummy tuck.

More About Tummy Tuck Recovery
After your surgery, dressings and an abdominal binder or garment may be worn. Your doctor will give you instructions for showering and changing your dressings. You will not be able to stand fully upright at first, which is normal. However, our board-certified plastic surgeons do encourage their patients to start walking as soon as possible. All sutures and drains are usually removed in 1 to 2 weeks. Some patients return to work at this point, while others take additional time off, especially if they have a more physically demanding job. You should be able to return to most normal activities in several weeks. However, strenuous activities must be avoided for 4 to 6 weeks.
Abdominoplasty will strengthen weakened abdominal muscles and, along with procedures such as liposuction, breast augmentation, or breast reduction near can make great improvements in the appearance of your body. Keep in mind that your scars may actually appear to worsen during the first few months as they heal, but this is normal. Expect it to take 9 months to a year for your scars to flatten and lighten in color. While they will never disappear completely, your abdominal scars will not show under your clothes or bathing suits.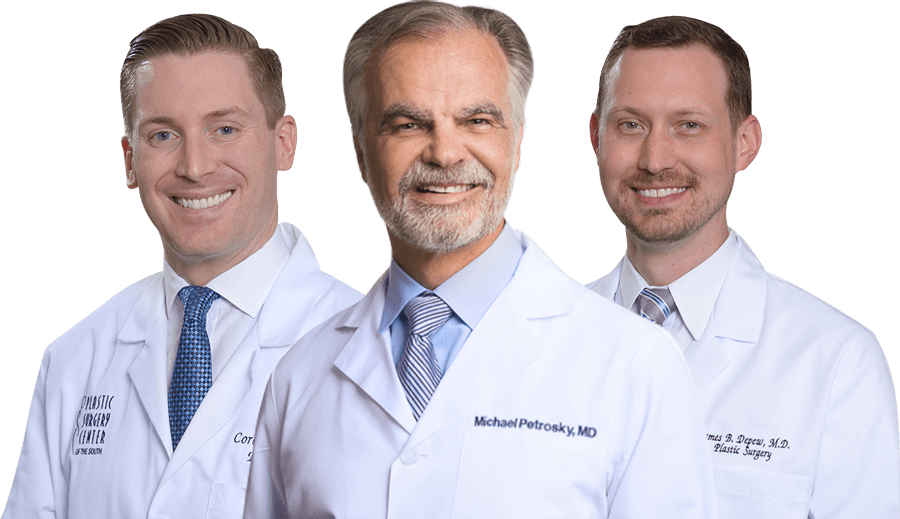 Meet Our Surgeons
Committed to the core values of ethics, integrity, honesty and education, our board-certified plastic surgeons draw patients from Atlanta and across the U.S.
Credentials You Can Trust

Request Your Consultation
An Award–Winning Team
Plastic Surgery Center of the South won Family Life magazine's "Best Of" contest for Canton for 2016, 2018, and 2019, and for Woodstock in 2017. Experience our difference for yourself.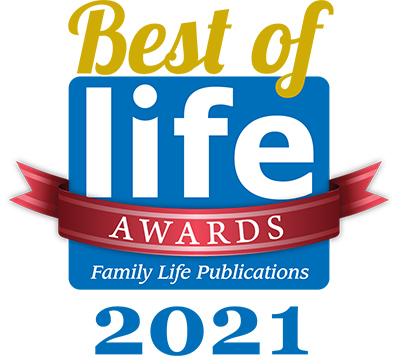 Abdominoplasty Risks
Thousands of abdominoplasties are performed each year across the United States. When performed by an experienced plastic surgeon, the results can be quite positive. However, there are always risks associated with any surgery. Complications include infection, blood clots, hematoma or seroma formation (blood and tissue fluid collections that may require removal), delayed healing with loss of tissue, and changes in abdominal sensation.
Following your surgeon's pre and post-operative instructions plays an important role in minimizing complications. The benefits of abdominoplasty usually far outweigh the potential risks for most patients. If your experience is like most, you will be extremely satisfied with your new abdominal contour. And, in most cases the results are long lasting if you follow a balanced diet and get plenty of exercise.
To schedule an appointment with Plastic Surgery Center of the South please call (770) 421-1242 or request your consultation online. We will be happy to answer all of your top questions regarding a tummy tuck (abdominoplasty) in the Atlanta area. You may also visit our Tummy Tuck FAQs page for more information about this popular surgery. Our offices are conveniently located in Marietta, Georgia. We treat patients from all over the state as well as the country.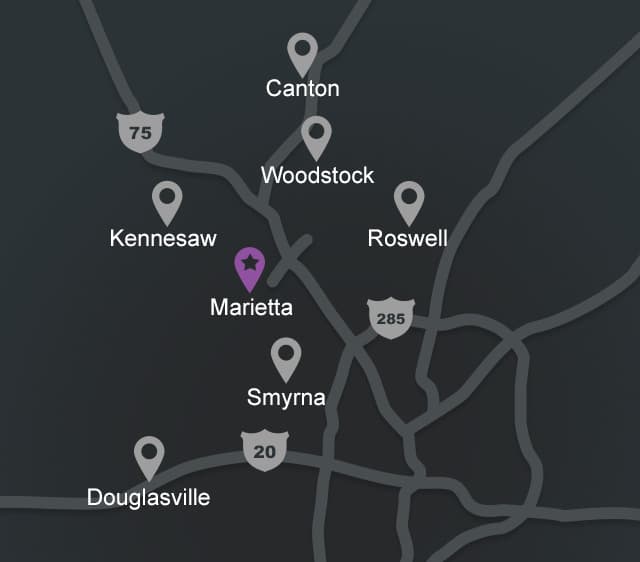 How to Visit Us in Marietta
Because of our top-notch patient care and beautiful results, Plastic Surgery Center of the South has built a strong reputation in the region. If you are interested in visiting our Marietta practice from a nearby community, choose your area below to get easy-to-follow driving directions.
Roswell
Canton
Smyrna
Douglasville
Kennesaw
Woodstock
Back to Top