Plastic Surgery Center of the South
120 Vann Street Northeast #150
Marietta, GA 30060
Phone: (770) 421-1242
Monday-Friday: 9 a.m.–5 p.m.

Facelift Surgery in the Atlanta Metro Area
As you age, the effects of gravity, sun, and daily stress can affect your appearance. A facelift helps Marietta and Atlanta women and men reduce the signs of aging and provide a more rested, refreshed look. The board-certified plastic surgeons at Plastic Surgery Center of the South will work closely with you to achieve the most natural results based on your individual needs. Their expertise, artistry, and skill are sought out by people from Smyrna, Roswell, Sandy Springs, GA, and other nearby communities seeking the best facelift results.
How Much Does a Facelift Cost in Atlanta?
In metro Atlanta, the average cost of a facelift is approximately $12,000 and varies with many factors, including the complexity of the facelift surgery and whether it is combined with other procedures such as  neck lift and brow lift surgery, the experience and expertise of the surgeon, anesthesiology fees, and surgical facility costs. Your surgeon will provide you with a customized cost estimate after your consultation.
What Are the Different Types of Facelifts?
A facelift, or rhytidectomy, rejuvenates the face by tightening the underlying facial tissues, reducing or repositioning excess fat, and redraping the loose skin. Volume can be restored to the cheeks and other areas using fat transfer or fillers as needed.
Our surgeons are trained in the top, state-of-the-art facelift techniques, as well as time-honored ones. We customize each procedure based on the individual's unique needs and physical characteristics, so often we combine or modify techniques for the best outcome.
Deep Plane Facelift
This technique involves releasing and repositioning the layer of muscle and tissue beneath the skin called the superficial musculoaponeurotic system (SMAS). This is a highly technical approach, which involves going to the "deep plane" beneath the SMAS layer to detach and reposition it. To perform this technique, your surgeon makes incisions along the hairline, following an inconspicuous path that ends behind the ears. A deep plane lift is often recommended for men and women with more severe facial sagging.
SMAS Facelift
For patients whose skin retains some of its elasticity and who have less severe sagging, a SMAS lift can achieve excellent results. Incisions made during the SMAS lift are essentially the same as during a deep plane lift, but the layer of tissue and muscle isn't released from the deeper layer and moved. Instead, the surgeon tightens the SMAS layer using sutures, redrapes the skin, and trims away any excess.
Incision Types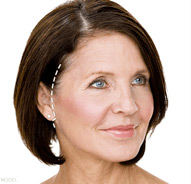 SMAS Incision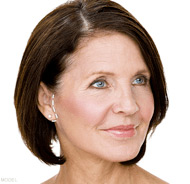 Short Scar Incision
Short Scar (Mini) Facelift
Many techniques are called short scar facelifts, or mini facelifts. They each feature limited incisions and are options for patients who are usually in their 40s or 50s with more moderate signs of aging. Unlike more extensive versions of the procedure, the incisions used during a short scar facelift don't extend behind the ear. This technique typically doesn't address the neck.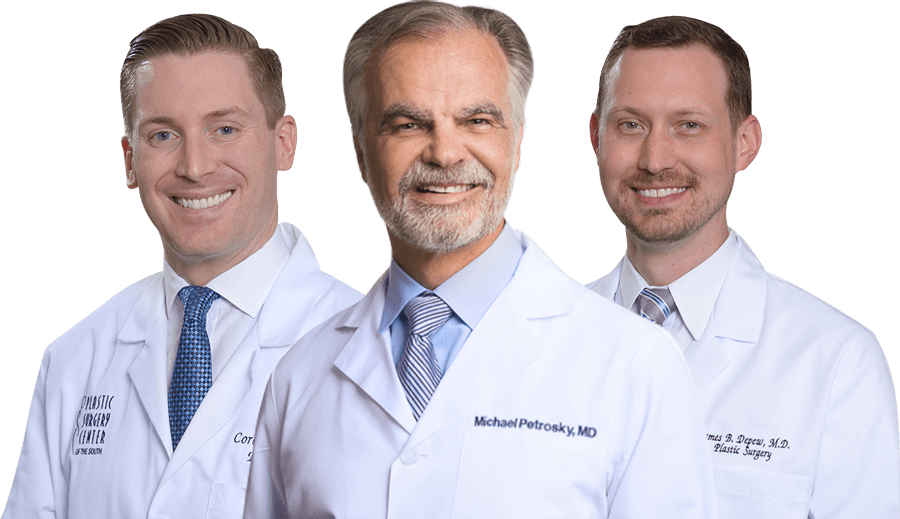 Meet Our Surgeons
Committed to the core values of ethics, integrity, honesty and education, our board-certified plastic surgeons draw patients from Atlanta and across the U.S.
Credentials You Can Trust

Request Your Consultation
A Facelift That Flatters You
Facelift: Just the Facts
Some of the most common goals patients have for their facelifts include:
Attaining a more youthful and rested appearance with smoother and firmer skin
Addressing aesthetic problems from the eyes to the jawline
Minimizing deep creases between the nose and mouth
Taking 5 or even 10 years off the appearance
Our surgeons take pride in tailoring each procedure to the individual patient for one-of-a-kind results. At your consultation, your surgeon will discuss your surgical plan in detail and explain your options thoroughly.
What To Expect During Surgery
Facelift surgery is usually performed on an outpatient basis but may include an overnight stay depending on the extent of the procedure. Incisions usually begin above the hairline at the temples and extend within the natural facial contours in front of and behind the ears. If a neck lift is also being performed, a small incision may also be made under the chin.
Through these incisions, a surgeon addresses deeper tissues, redrapes the skin, and reduces excess skin or fat, then closes the incisions with fine sutures. Your head may be bandaged loosely to minimize bruising and swelling.
An Award–Winning Team
Plastic Surgery Center of the South won Family Life magazine's "Best Of" contest for Canton for 2016, 2018, and 2019, and for Woodstock in 2017. Experience our difference for yourself.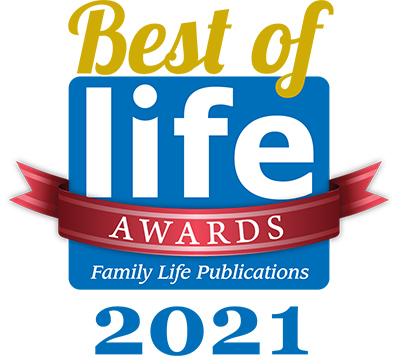 What Is the Recovery Time for a Facelift?
The recovery period following a facelift varies from patient to patient and depends on the techniques used during the operation. All patients receive detailed instructions to follow when they return home after surgery. Following these instructions closely is essential to the healing process and ensures a more comfortable recuperation.
Facelift Results
After your recovery is complete, you can enjoy improved facial contours and enhanced confidence about your appearance. In fact, many of our patients feel much more attractive and youthful as a result of their facelift procedures. In some cases, facelift surgery results can be enhanced with eyelid surgery or a brow lift to address signs of aging in the upper face.
Frequently Asked Questions
Will a facelift rejuvenate my entire face?
No. This procedure focuses on the lower two-thirds of the face, which includes the mid-face, lower face, and jawline; therefore, signs of aging around the eyes and brows are not addressed. Many patients combine a forehead lift or non-surgical treatment such as BOTOX® Cosmetic with their surgeries to accomplish a more complete facial rejuvenation.
What is the best age to get a facelift?
There is no specific age limit for facelift patients. Sometimes we see patients in their early 40s who come in for a consultation, and we may ultimately recommend less invasive treatments. Sometimes we recommend surgery for younger patients who have lost a lot of weight and have sagging skin left behind. On the other end of the spectrum, patients in their 70s or older may benefit greatly from a facelift if they are in good overall health and want to look younger.
How long will I need to take off work after facelift surgery?
Our surgeons typically recommend returning to work after 2 weeks of recuperation if your job doesn't require extensive physical activity. If swelling and bruising are a concern, you may need additional time off. Incisions are located where they can be easily hidden by your hair.
How long do facelift results last?
Typically, facelift results last 7 to 10 years, but because this surgery turns back the clock, you can expect to continue looking younger than your chronological age indefinitely. The aging process continues, so the results of your procedure will change over time. After a few years, you may consider touch-up treatments or non-surgical services to help maintain a youthful look.
If you're considering visiting us in the Atlanta area for facial surgery, call us today at (770) 421-1242 to schedule an appointment or request a consultation online to meet personally with one of our surgeons.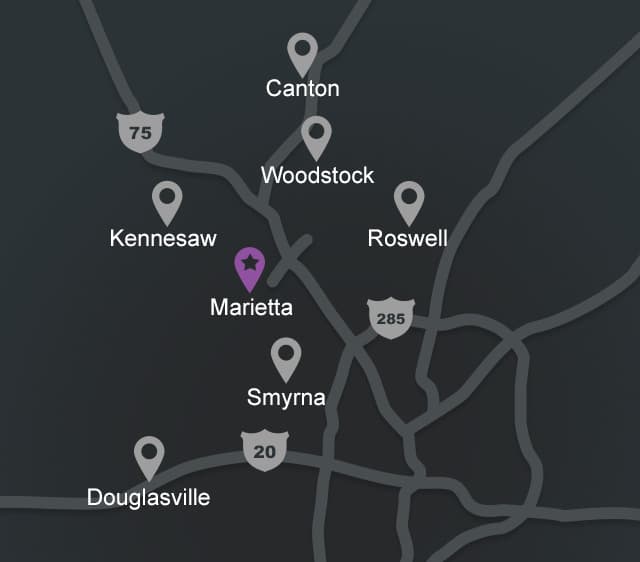 How to Visit Us in Marietta
Because of our top-notch patient care and beautiful results, Plastic Surgery Center of the South has built a strong reputation in the region. If you are interested in visiting our Marietta practice from a nearby community, choose your area below to get easy-to-follow driving directions.
Roswell
Canton
Smyrna
Douglasville
Kennesaw
Woodstock
Back to Top