Plastic Surgery Center of the South
120 Vann Street Northeast #150
Marietta, GA 30060
Phone: (770) 421-1242
Monday-Friday: 9 a.m.–5 p.m.

Facial Peels
In our aging population when the skin begins to relax and the "glow" begins to fade chemical peels are a great way to achieve rejuvenation. Depending on your concern, you might benefit from a variety of different facial peels from minimally invasive to more complex deep chemical peels in Atlanta.
Many of our medical spa patients combine facial treatments with procedures like BOTOX® Cosmetic, microdermabrasion and laser hair removal. To allow the products to penetrate more deeply into the skin, we often recommend beginning your treatment with dermaplaning.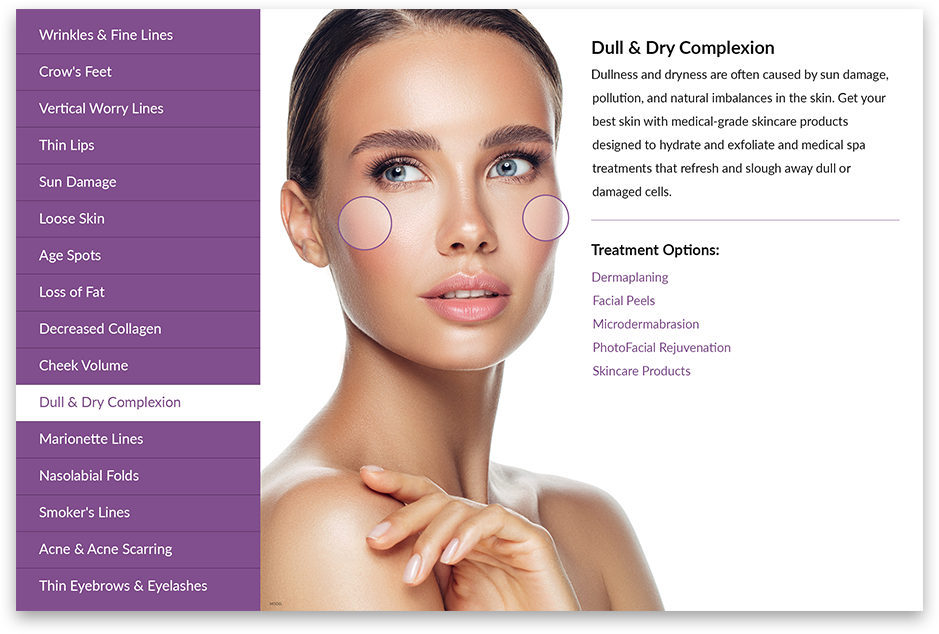 Not Sure
What You Need?
Use our interactive treatment planner to learn about the best medical spa treatments for any cosmetic concern you have. Explore our easy-to-use guide to find out which procedures, products, and services will help you bring your aesthetic goals to life.
Plan Your Treatment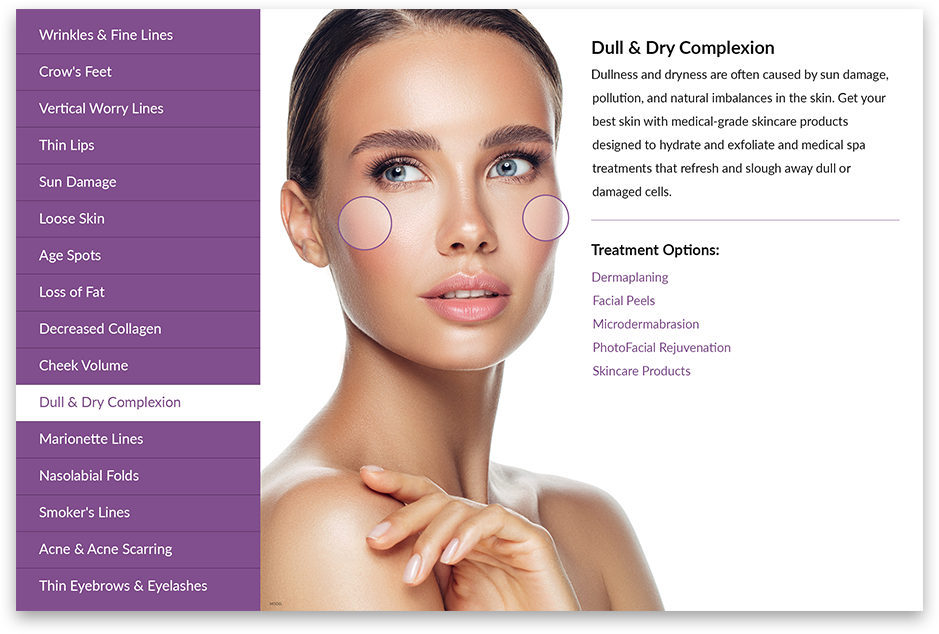 Deep Chemical Peels
Deep chemical peels normally involve the chemical phenol to achieve a very deep peel. This is an aggressive peel that provides overwhelming improvement in wrinkles. Results are superior to other peels, and similar to laser treatments or dermabrasion. Only one treatment is usually needed and the results last decades. Phenol peels may also help superficial acne scars and dark discolorations. However, there are some disadvantages from a phenol peel. After your peel and your redness has faded, your face will turn a pale white color.

The results of a deep chemical peel can last for decades.
There is no way to smoothly transition from peeled to non-peeled skin, the skin typically will not tan after a deep chemical peel so a line will exist. If you are heavily freckled, your freckles will be removed from the treated area, creating disharmony with your freckled neck and chest. Because of the change in skin color, phenol peels are best suited for those with fair skin. It is not appropriate for olive, brown or black skin, or those who are heavily freckled, as it will cause permanent changes. The procedure only takes about 45 minutes to an hour. Your face will likely be swollen, red, oozing and crusted. Over the next couple days your face will start to flake. Within approximately 7 to 10 days the peeling and flaking will be complete leaving you with healthy, smooth, bright red skin. The sunburned appearance will take about 2 to 3 months to improve after which your skin will appear extremely pale.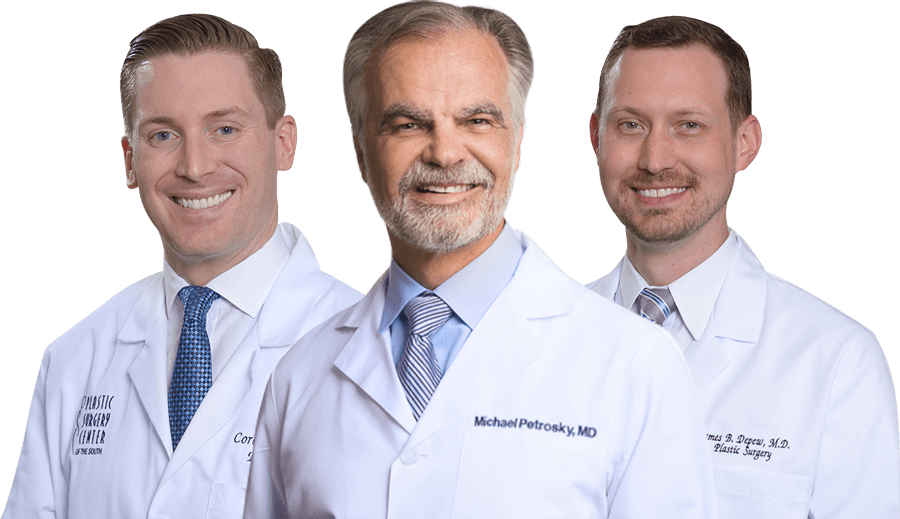 Meet Our Surgeons
Committed to the core values of ethics, integrity, honesty and education, our board-certified plastic surgeons draw patients from Atlanta and across the U.S.
Credentials You Can Trust

Request Your Consultation
An Award–Winning Team
Plastic Surgery Center of the South won Family Life magazine's "Best Of" contest for Canton for 2016, 2018, and 2019, and for Woodstock in 2017. Experience our difference for yourself.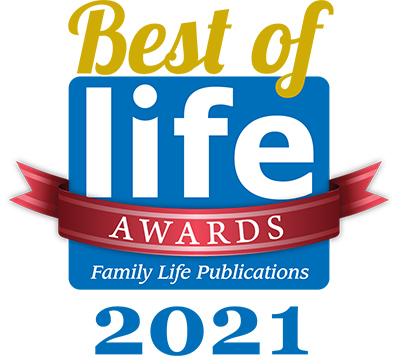 Medium Chemical Peels
A medium peel can improve your skin's tone, texture and color.
Medium chemical peels are for those who are looking to improve the color, freshness and texture of your face. It improves skin tone and reduces the visibility of fine wrinkles and superficial discoloration, such as age spots. It will not do anything for deep acne scarring or deep wrinkles. Medium chemical peels can be achieved with a variety of chemicals. TCA (trichloroacetic acid) is the most common, but others include Jessner's solution, glycolic acid, salicylic acid and other agents. To achieve maximum results, you should pre-treat your skin with skin care products, this allows for deeper penetration, faster recovery, lower risk of discoloration, and better results. Applying Retin-A, glycolic acid, and/or bleaching creams daily to the treated area for 4 to 6 weeks prior to treatment will prepare the skin for treatment.
The procedure will take about 45 minutes to an hour. You will feel a burning sensation during the treatment that will last approximately 10 minutes after the treatment is finished. Your skin will return to its normal color in about 30 to 45 minutes. Your face will be covered with an ointment to keep your skin moist and promote healing. Your face will initially appear red and then within a few days the superficial layers of skin will turn dark and stiff. The skin will then crack, flake and peel. The process normally is complete in about 1 week leaving you with bright, flushed skin. Once your skin has finished peeling you may begin to wear make-up. Your flushed appearance will fade slowly over several weeks. Your peel will usually continue to show results for several years. Regular use of your skin care products can maximize the duration of improvement.
Neo-Peel™
Neo-Peel from Neocutis® improves the appearance of skin texture and tone with a revolutionary technology called MELAPLEX®. MELAPLEX is a blend of glycolic acid and skin-brightening agents that address skin discolorations in 3 ways:
By targeting an enzyme that is necessary for melanin formation
By blocking the transfer of melanosome into keratinocytes
By minimizing melanin formation caused by the sun
Neo-Peel is a significant step forward in anti-aging and skin brightening. After a series of 4 to 6 peels, you will likley enjoy visibly clearer skin with fewer lines and wrinkles, smaller pores and a softer texture. This procedure is ideal for those who are new to chemical peels and those who want little downtime and fewer side effects.
Neo-Peel can also be used in conjunction with other skin care procedures for more dramatic benefits.
Obagi Blue Peel
Get firmer, smoother and clearer skin with an Obagi Blue Peel.
Obagi Blue Peel is a type of medium chemical peel that is effective in improving skin texture, freshness and vitality. It not only helps revitalize lifeless skin and brightens your complexion but it helps eliminate fine lines and wrinkles, fades brown spots and other discolorations, minimize pore size and smoothes your skin surface. It does not treat dynamic wrinkles such as crow's feet, forehead creases or scowl lines. In a blue peel, a blue dye is applied along with TCA allowing your esthetician to know how deep the chemical has penetrated and the changing color factor provides evaluation of the depth of the peel. Based on your individual needs, skin condition, and level of damage your aesthetician will determine the strength of the peel needed. The procedure takes less than an hour and does not require sedation. You will feel a mild burning sensation that generally lasts only a few minutes. You will have a bluish tint to your skin that usually washes off in a few days. Flaking and peeling will begin within about 4 to 5 days after your peel and continue over the next several days. By the seventh to tenth day, your skin should be healed. Once your skin has completely recovered, you will notice a visible improvement in your complexion. Your appearance will continue to improve becoming firmer, clearer, smoother, healthier and more youthful looking. Your skin professional will advise you on how many peels are needed to give you the desired result. As with any peel, having a good skin care regime will optimize your results and allow you to see longer lasting results.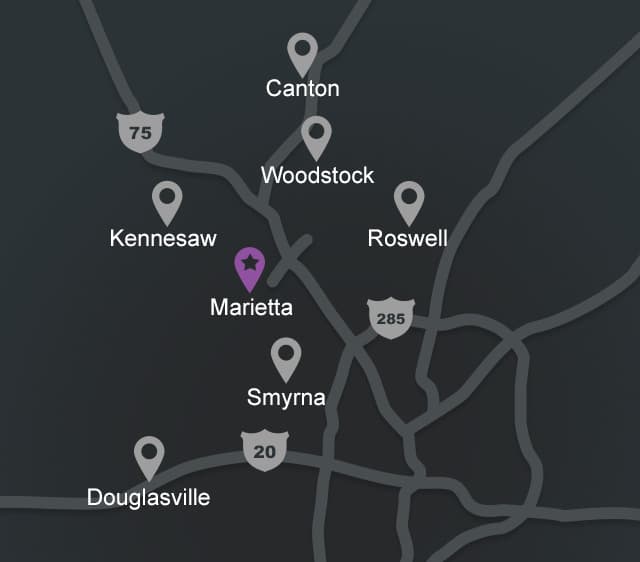 How to Visit Us in Marietta
Because of our top-notch patient care and beautiful results, Plastic Surgery Center of the South has built a strong reputation in the region. If you are interested in visiting our Marietta practice from a nearby community, choose your area below to get easy-to-follow driving directions.
Roswell
Canton
Smyrna
Douglasville
Kennesaw
Woodstock
Back to Top