Plastic Surgery Center of the South
120 Vann Street Northeast #150
Marietta, GA 30060
Phone: (770) 421-1242
Monday-Friday: 9 a.m.–5 p.m.

Facelift Recovery & Results
Facelift Recovery & Results
With any facial surgery, your objective is to enhance your appearance and put your best face forward. If you are considering a facelift in the Atlanta, Georgia, area, it might be difficult to take a temporary step backwards while recovering. The important thing to remember is that bruising, swelling, and noticeable scarring are indeed only temporary while smoother, tighter skin will last for years to come.
What Can I Expect During Facelift Recovery?
When you choose a facelift specialist at Plastic Surgery Center of the South, you also choose a recovery that is more comfortable and shorter thanks to the advanced surgical techniques we use. Swelling and bruising around the face and neck vary from patient to patient and can be minimized by keeping your head elevated and limiting your activities during the first several days after surgery. Most patients are pleasantly surprised that there is minimal discomfort, which is easily controlled with medication.
If you had a drainage tube inserted, it will be removed after about 1 or 2 days. Most of the sutures are removed within the first week, but some stitches in your scalp may be left in longer. Don't be surprised if you look pale, bruised and puffy. Be especially gentle with your face and hair the first couple weeks. Your skin will be both tender and numb and may not respond normally at first.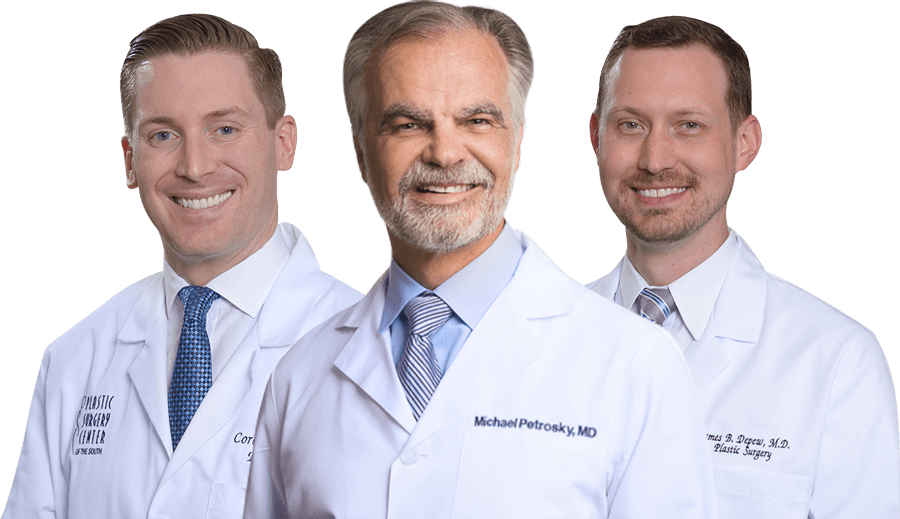 Meet Our Surgeons
Committed to the core values of ethics, integrity, honesty and education, our board-certified plastic surgeons draw patients from Atlanta and across the U.S.
Credentials You Can Trust

Request Your Consultation
How Long Is Recovery From Facelift Surgery?
You can expect to return to work and begin going out socially within approximately 2 to 3 weeks after facelift surgery. Even as you gradually resume your normal activities and exercise, you likely will begin fielding compliments from friends and co-workers. You can easily use makeup to camouflage any minor bruising that remains during the first few days of being back at work.
Enjoying Your Results
Within a few weeks of surgery you will love your new look. Your improved facial appearance may be subtle or dramatic depending on your pre-operative condition. By having one of the experienced, talented surgeons at our practice near Atlanta, Georgia, perform your facelift, you can expect to look more youthful and also very natural. People may say you look rested or ask if you've changed your hairstyle — but no one will know why.
How Long Will a Facelift Last?
The rejuvenating results from facelift surgery typically last 7 to 10 years. Even though the aging process continues, you will continue to look better than if you'd never had a facelift.
How Can I Make My Facelift Last Longer?
Protecting yourself from the sun and following a skin care regimen recommended by our esthetician will help you maintain your rejuvenated look. To continue enjoying your results as time passes, you may want to return to us regularly for non-surgical treatments such as BOTOX® Cosmetic or skin treatments. These are a great way to maintain a bright, refreshed face. Some patients also complement their facelift surgery with other surgical treatments such as eyelid surgery or a forehead lift. We enjoy forming lasting relationships with our loyal patients so we can work together maintaining great results over the years.
An Award–Winning Team
Plastic Surgery Center of the South won Family Life magazine's "Best Of" contest for Canton for 2016, 2018, and 2019, and for Woodstock in 2017. Experience our difference for yourself.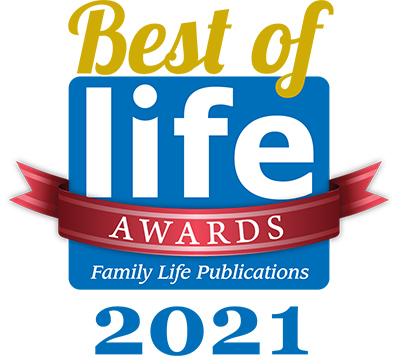 Is Facelift Surgery Safe?
Complications are infrequent and usually minor when a facelift is performed by a plastic surgeon at our practice. Individuals vary greatly in their anatomy, physical reaction, and healing abilities. Some of the potential complications may include hematoma (a collection of blood under the skin that may require removal), injury to nerves that control facial muscles (which is usually temporary), infection, reactions to anesthesia, and poor skin healing. Your surgeon will discuss the risks and benefits with you prior to the procedure. It is important to talk about your expectations before surgery.
Your board-certified plastic surgeon thoroughly discusses your recovery plan when he meets with you personally. Call our office today at (770) 421-1242 to schedule an appointment or request a consultation using the online form. Our offices are conveniently located in Marietta, Georgia. We treat patients from all over the state as well as the country.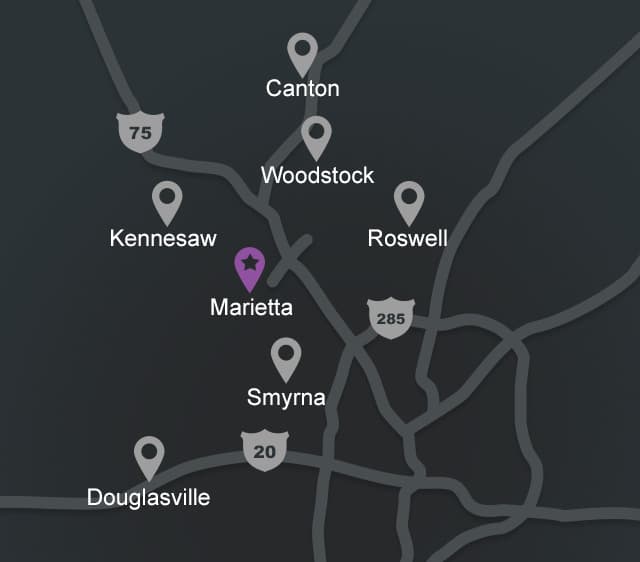 How to Visit Us in Marietta
Because of our top-notch patient care and beautiful results, Plastic Surgery Center of the South has built a strong reputation in the region. If you are interested in visiting our Marietta practice from a nearby community, choose your area below to get easy-to-follow driving directions.
Roswell
Canton
Smyrna
Douglasville
Kennesaw
Woodstock
Back to Top