Plastic Surgery Center of the South
120 Vann Street Northeast #150
Marietta, GA 30060
Phone: (770) 421-1242
Monday-Friday: 9 a.m.–5 p.m.

Breast Lift
Are you looking to regain the figure you once had before childbirth, aging or weight loss? Have your breasts started to sag or taken on a droopier, flatter appearance? Over the years, factors such as pregnancy, nursing, significant weight changes and gravity can all have drastic effects on your breasts. As your skin loses its elasticity, your breasts often lose their shape and firmness. A breast lift in our metro Atlanta center can help you regain the self-confidence and figure you deserve.
Call us today at (770) 421-1242 or request a consultation online to discuss breast lift surgery in Marietta with one of our board-certified plastic surgeons and find out if it is right for you. We serve patients from metro Atlanta, Smyrna, Roswell, Sandy Springs, and other nearby communities.
Breast Lift

Before & After Photos
WARNING:
This feature contains nudity. Please click OK to confirm you are at least 18 years of age and are not offended by such material.
Candidates for Breast Lift Surgery
Breast lift surgery is a breast enhancement procedure that raises and reshapes sagging breasts. As with each and every surgery we perform at our practice near Atlanta, your breast lift is customized to meet your needs and expectations. The amount of lifting to restore your breasts to their most aesthetic position will vary from patient to patient, as will the amount of elasticity of your skin and the amount of breast tissue in each breast. All of these factors will be taken into consideration to create a youthful "perky" breast.
If you are planning on having more children, it may be a good idea to postpone your surgery until you are done having children. Although there are no special risks that affect future pregnancies, your ability to breast feed may be compromised. Plus, pregnancy is likely to stretch your breasts again and offset the procedure.
Mastopexy, or breast lift surgery, tightens lax breast skin, repositions the nipple, and reshapes the breast. If the areolas (the darker pigmented skin surrounding the nipples) are enlarged, they may be reduced in size. Some breast tissue may also be removed if the patient wants smaller breasts. If larger breasts are desired, breast implants may be inserted to increase breast volume. It is important to discuss your expectation with your plastic surgeon prior to the operation so that the best procedure and outcome can be obtained.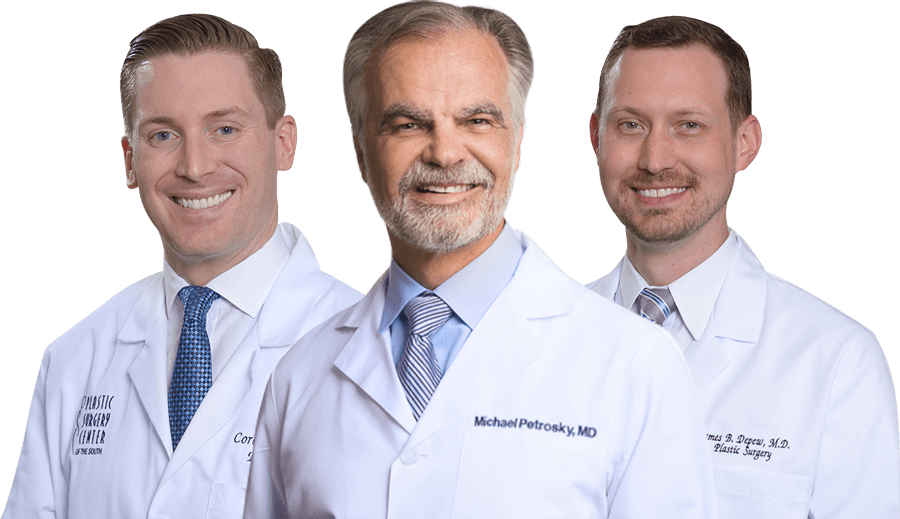 Meet Our Surgeons
Committed to the core values of ethics, integrity, honesty and education, our board-certified plastic surgeons draw patients from Atlanta and across the U.S.
Credentials You Can Trust

Request Your Consultation
An Award–Winning Team
Plastic Surgery Center of the South won Family Life magazine's "Best Of" contest for Canton for 2016, 2018, and 2019, and for Woodstock in 2017. Experience our difference for yourself.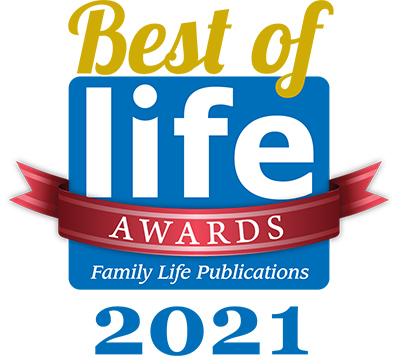 About the Procedure
Breast lift surgery is usually performed as an outpatient under general anesthesia or local anesthesia with sedation. The length of the operation varies depending on the complexity of the surgery. Prior to the operation, careful measurements are made to determine the new position of the nipple and areola, the incision lines, and the amount of skin to be removed. During the surgery the incisions are made according to the pre-planned markings, the excess skin is removed, the nipple and areola are repositioned to a higher level, and the skin flaps are closed around the remaining tissue to reshape the breast. The nipple and areola are kept attached to the underlying tissue. This usually allows for fairly normal sensation and even the ability to breast feed in some cases.
For minor degrees of breast ptosis, or sagging, the incisions may be confined to the area around the areola. For more severe cases of breast ptosis, the incisions and resulting scars run around the areola, vertically from the bottom edge of the areola to the crease underneath the breast and horizontally in the crease under the breast. The scars are permanent but every effort will be made to minimize the scars. Many women who choose breast lift surgery also benefit from breast augmentation with implants to add or restore breast volume.
Recovering from Breast Lift Surgery
After the surgery dressings or a bra may be placed. Your breasts will be bruised, swollen and uncomfortable for a day or 2. Most sutures are placed underneath the skin. Any stitches on the outside are usually removed in about a week. The post-operative discomfort is usually minimal and easily controlled with medication. You can expect some loss of feeling in your nipples and breast skin. This numbness usually fades as the swelling subsides over the next 6 weeks or so. You should be able to return to fairly normal activities within a week. Avoid overhead lifting for three to four weeks as well as strenuous sports. Your physician will instruct you when you can return to vigorous activities. Your scars often remain lumpy and red for months, then gradually become less obvious, sometimes eventually fading to thin white lines.
Every year thousands of women undergo breast lift surgery with no major problems. Risks include infection, hematoma (collection of blood that may require removal), asymmetry, changes in sensation and poor healing. As with any surgery, revisionary surgery may occasionally be needed in the future. Your improved breast volume should remain fairly constant unless you lose or gain a significant amount of weight or become pregnant. The aging process will continue and your breast may droop somewhat in the future. Overall, most patients are extremely pleased with their improved, uplifted breast shape.
Plastic Surgery Center of the South is located in Marietta, Georgia, just outside of Atlanta. Our Surgeons are happy to answer any questions you may have about breast lift surgery. It is important to talk about your expectations and goals of the surgery before the procedure to ensure an optimal result. A thorough medical examination and communication is essential for a successful procedure. We treat patients from all over the state, the United States and countries around the world. Our state-of-the art surgical facility and staff are surpassed by none. Call us today at (770) 421-1242 or request a consultation online to get started.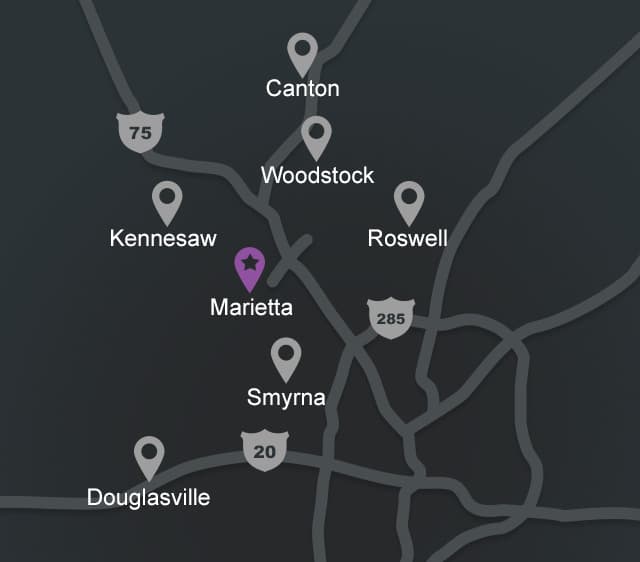 How to Visit Us in Marietta
Because of our top-notch patient care and beautiful results, Plastic Surgery Center of the South has built a strong reputation in the region. If you are interested in visiting our Marietta practice from a nearby community, choose your area below to get easy-to-follow driving directions.
Roswell
Canton
Smyrna
Douglasville
Kennesaw
Woodstock
Back to Top