Plastic Surgery Center of the South
120 Vann Street Northeast #150
Marietta, GA 30060
Phone: (770) 421-1242
Monday-Friday: 9 a.m.–5 p.m.

Breast Augmentation in the Atlanta Metro Area
At Plastic Surgery Center of the South near Atlanta, breast augmentation is one of our top procedures with one of the best patient satisfaction rates. With new breast implant materials and more advanced surgical techniques, this highly personal surgery can benefit women of all shapes and sizes.
Our top board-certified plastic surgeons have many years of combined experience performing breast enhancement procedures. They can help you sort through your numerous surgical options and choose the best implants for your body and lifestyle. With guidance from our surgeons, the women who visit us for breast augmentation in Marietta from nearby cities, including Smyrna, Roswell, and Sandy Springs, GA, be on their way to the fuller, more beautiful breasts they'll love.
Breast Augmentation

Before & After Photos
WARNING:
This feature contains nudity. Please click OK to confirm you are at least 18 years of age and are not offended by such material.
How Much Does Breast Augmentation Cost in Atlanta?
The cost for a breast augmentation procedure at our practice near Atlanta depends on a variety of factors:
The type of implants you choose (approximately $1,600 for silicone gel implants and $850 for saline)
The complexity of the procedure
Whether other procedures are performed in the same surgery
Physician fee (typically $2,300)
Fees for anesthesia and the operating room are comparable to those at other practices in the area
You will receive an estimated cost for your specific procedure during your consultation. We offer patient financing options to make breast augmentation affordable for most patients. Do keep in mind that your safety and results are what matter most, and it's important to consider a surgeon with the right training and experience when evaluating the cost.
Breast Implant Options
Women today have many options when it comes to selecting their perfect breast implant. Some of the decisions that our skilled plastic surgeons will help you with include the following:
Implant Fill Material
Implant Shape
Round
Teardrop (anatomical)
Implant Texture
Implant Profile
Explore your options in-depth with our Breast Implant Options page.
Breast Augmentation With Fat Transfer
Women who want softer, natural, more subtle results have the option of fat grafting, also called fat transfer. Our breast augmentation patients love fat transfer because it uses their own natural fat and slims another part of the body, such as the abdomen. Fat grafting is also a good option for patients who may be sensitive to silicone.
Which Breast Augmentation Incision Is Best?
The most commonly chosen incision is the inframammary incision. This decision depends on several factors, including your anatomy, choice of implants, surgeon's recommendation, and personal preferences. Some of the most common incision types are: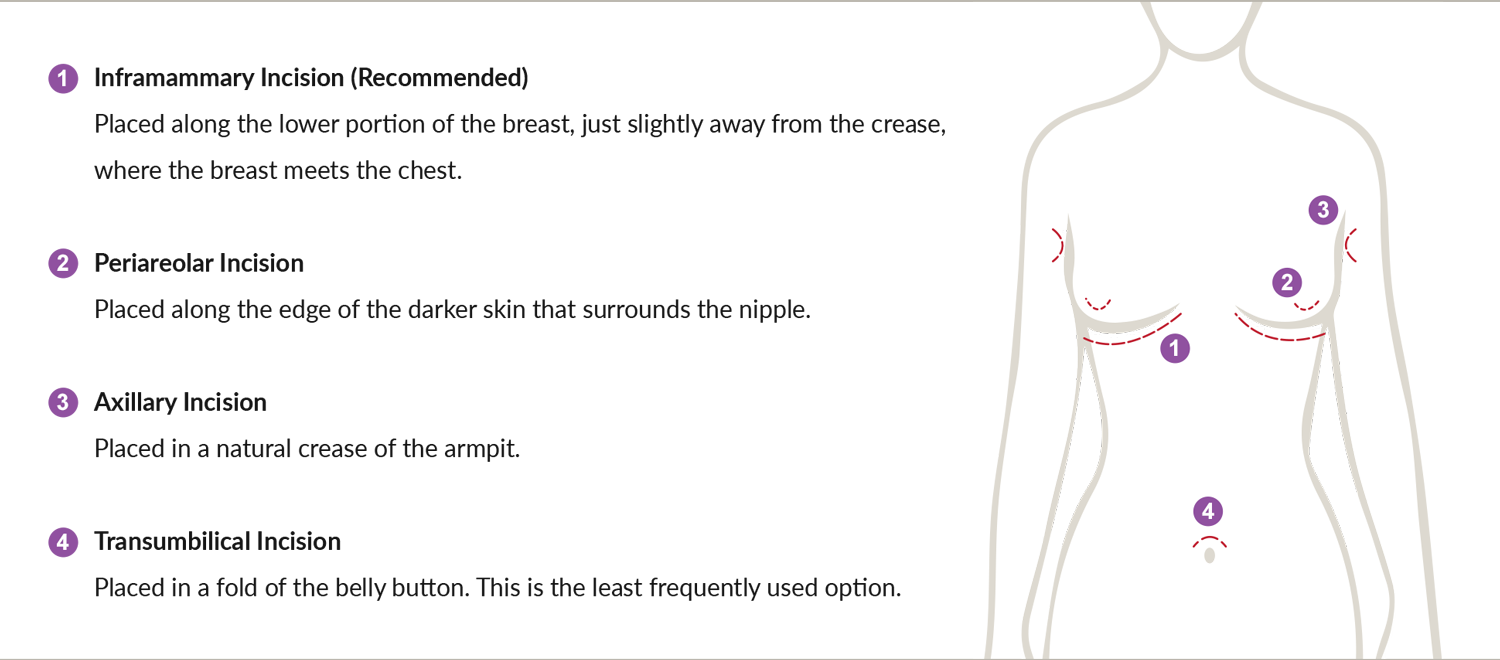 Inframammary Incision (Recommended)
Placed along the lower portion of the breast, just slightly away from the crease, where the breast meets the chest.
Periareolar Incision
Placed along the edge of the darker skin that surrounds the nipple.
Axillary Incision
Placed in a natural crease of the armpit.
Transumbilical Incision
Placed in a fold of the belly button. This is the least frequently used option.
Breast Implant Placement Options
During surgery, your surgeon creates a space behind the breast called the pocket in which the implants are inserted. The pocket can be located in 1 of 2 positions: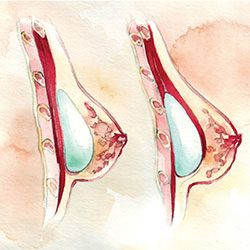 Directly behind the breast tissue, called subglandular placement (left). This over-the-muscle location can give a more attractive shape, particularly if your natural breasts sag a bit. This placement offers natural-looking movement, better cleavage, and less interference with muscle movement.
Underneath the pectoralis muscle, called submuscular placement (right). This behind-the-muscle pocket adds a layer of tissue over the implant to disguise the implant's edges and make it less palpable. It also puts a layer between the breast tissue and the implant to help with mammography. This approach may decrease the risk of hardening (a complication called capsular contracture).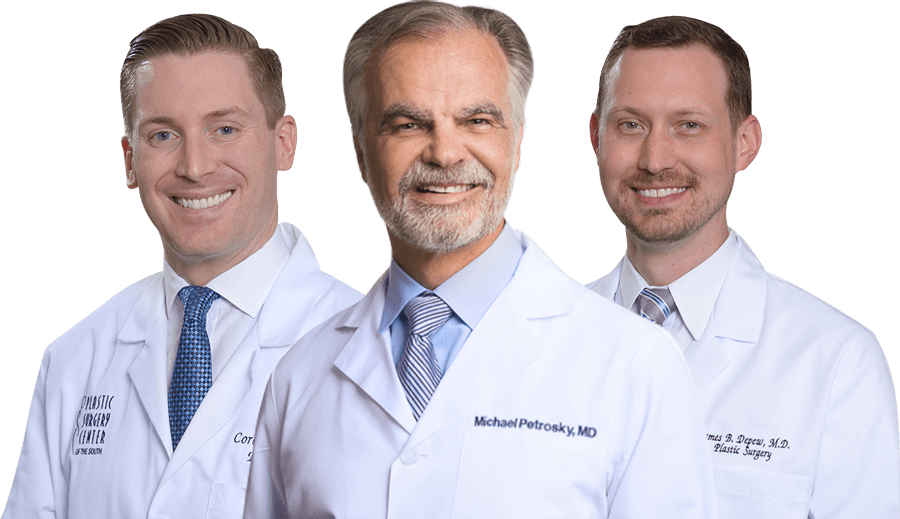 Meet Our Surgeons
Committed to the core values of ethics, integrity, honesty and education, our board-certified plastic surgeons draw patients from Atlanta and across the U.S.
Credentials You Can Trust

Request Your Consultation
Breast Augmentation for Your Body
During your consultation, your surgeon asks you questions about your goals for breast augmentation. He creates a unique surgical plan for you in order to accommodate your preferences and body shape.
What Are Your Goals?
Some of the most common goals women have for their breast augmentation procedures include:
Achieving fuller, beautifully shaped breasts if their natural breasts are small
Restoring lost volume after pregnancy or weight loss
Balancing asymmetry
Renewing the shape of breasts that have lost firmness
Improving the appearance of breasts disfigured by congenital abnormalities, heredity, or trauma
Reconstructing one or both breasts after cancer
What To Expect During Your Procedure
Breast augmentation may be performed while you are under general anesthesia or local anesthesia with sedation. After making the incisions, your surgeon lifts your breast tissue and skin to create a pocket for each implant. Your surgeon makes every effort to minimize the scars and keep them as inconspicuous as possible. Once the implants are positioned in each pocket, he closes the incisions with dissolvable sutures. Bandages may be applied over your breasts to help with healing. You will then either be wrapped in an elastic bandage or placed in a surgical bra. The surgery usually lasts 1 to 2 hours.
Is Breast Augmentation Surgery Painful?
You'll likely feel tired and a bit sore throughout the first few days after your breast augmentation. Most of your postoperative discomfort can be controlled by medication until the pain subsides, normally a few days.
As an added option, we offer a solution for pain management called EXPAREL®. This FDA-approved analgesic is injected into the incision at the time of surgery and is slowly released into the body during the following 3-day period. EXPAREL can greatly reduce the need for other strong pain medications in the days following your surgery. It is a great alternative for patients who are sensitive to opioids.
How Long Does It Take To Recover From Breast Augmentation?
You will return home from surgery wearing a soft, supportive bra that your surgeon puts on you immediately following surgery. At Plastic Surgery Center of the South, there are no sutures that need to be removed.
Recovery Milestones
While experiences vary, expect to reach the following common milestones along this timeline:
A few days: Return to non-strenuous work or school.
2 to 3 weeks: Breasts and nipples may be sensitive.
3 weeks: Return to most normal activities, including exercise.
5 weeks: Swelling dissipates.
3 to 6 weeks: Wear surgical bra as directed.
4 to 6 weeks: Return to strenuous exercise and unrestricted lifting.
6 weeks: Scars will be firm and pink.
Staying Comfortable
To maximize your comfort after surgery, be sure to have these items on hand:
Soft, loose-fitting pajama bottoms and button-down tops
Moist wipes
Books, movies, magazines, or a tablet for entertainment
Fiber supplements
Nutritious, low-sodium snacks and drinks
An Award–Winning Team
Plastic Surgery Center of the South won Family Life magazine's "Best Of" contest for Canton for 2016, 2018, and 2019, and for Woodstock in 2017. Experience our difference for yourself.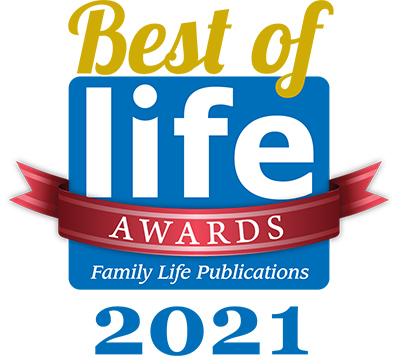 Is Breast Augmentation Surgery Safe?
Complications following breast augmentation surgery are extremely rare; the vast majority of patients do not experience any problems. While breast augmentation is a straightforward and extraordinarily popular procedure, as with any operation, risks do exist. The most frequent problem is capsular contracture. This occurs when the capsule or scar tissue surrounding the implant begins to tighten and make the breast feel firm. Although this complication is not a medical emergency, it can be uncomfortable. Infection, excessive bleeding, changes in sensation, and leaking or rupturing of the implant may also occur.
Your personal risks may vary depending on pre-existing health conditions and lifestyle habits. During your consultation, your surgeon helps you evaluate your candidacy for breast augmentation to determine the safest possible course of action.
After surgery, you should continue having routine mammograms and attend follow-up appointments as directed by your physician.
What Is a Breast Augmentation Revision?
Revision surgery is a procedure performed to improve the results from a previous breast augmentation. Women have a variety of reasons for considering this procedure, including:
Correcting complications such as capsular contracture or implant malposition (too low, high, or close together).
Improving unsatisfactory results.
Replacing a ruptured or leaking implant.
Exchanging breast implants for a different type or size (elective implant exchange).
If you are considering a revision procedure, one of our surgeons will be happy to discuss your options during a private consultation.
Breast Augmentation FAQ
How do I know if I need a breast augmentation or a breast lift?
Breast augmentation can reduce minor sagging by creating fuller breasts. However, many women benefit most by combining a breast lift with breast implants. For many patients, pairing lift and augmentation procedures is the most effective way to attain breasts that are both full and shapely.
Can I breastfeed after a breast augmentation?
Yes. Hundreds of thousands of women undergo breast augmentation in the U.S. each year, and almost every woman with implants who chooses to breastfeed is successful. A qualified surgeon makes breast augmentation incisions in such a way that they should not disrupt the normal function of the glands and ducts involved with milk production or delivery. Certain incision types, such as the inframammary incision, offer more distance from these structures. If this is a concern of yours, be sure to discuss it with your surgeon prior to surgery.
Can I combine other procedures with breast augmentation?
Yes. Not only do our breast augmentation patients frequently combine the procedure with a breast lift to reposition and reshape sagging breasts, but they also sometimes have body contouring treatments like a tummy tuck and liposuction at the same time. This customized combination surgery is called a Mommy Makeover, and it's meant to address the cosmetic issues often present after pregnancy and breastfeeding.
Does breast augmentation affect future breast examinations?
Having breast implants should not affect the accuracy of your mammography screenings, but you will need to inform your radiology technician that you have implants. These technicians are trained to use special techniques for women with implants.
My breasts are smaller than they were before breastfeeding. Can breast augmentation help?
Many women who were happy with their breast size before having children find that they have lost breast volume since breastfeeding. This is also common for women who have lost a lot of weight. Breast augmentation can restore your original breast size to give you a very natural yet feminine look.
One of my breasts is smaller than the other. What can I do to make them even?
Asymmetrical breasts are actually much more common than many people realize, and this harmless condition can be easily resolved with breast augmentation. For patients with marked asymmetry, our surgeons typically use implants of different sizes to help even out the discrepancy.
Will I eventually need another breast augmentation?
Breast implants do not have a set expiration date. If you are happy with the size and shape of your breasts, there's no need to have another surgery. If you experience concerns or complications, or you want to change your implant size or fill material, our surgeons can perform revision surgery. If you want to improve the shape of your breasts, you might consider breast lift surgery.
If you're ready to get started on your journey to the body you want, request a consultation with Plastic Surgery Center of the South online, or give us a call at  (770) 421-1242.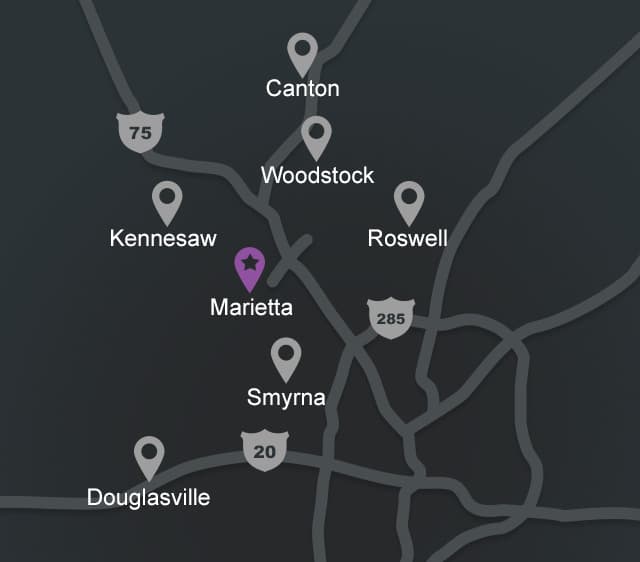 How to Visit Us in Marietta
Because of our top-notch patient care and beautiful results, Plastic Surgery Center of the South has built a strong reputation in the region. If you are interested in visiting our Marietta practice from a nearby community, choose your area below to get easy-to-follow driving directions.
Roswell
Canton
Smyrna
Douglasville
Kennesaw
Woodstock
Back to Top