Plastic Surgery Center of the South
120 Vann Street Northeast #150
Marietta, GA 30060
Phone: (770) 421-1242
Monday-Friday: 9 a.m.–5 p.m.

Breast Implant Options
Plastic Surgery Center of the South offers some of the best options available when it comes to breast implants for our patients from Atlanta, Marietta, Smyrna, Roswell, and Sandy Springs, GA. Our breast augmentation patients have a variety of choices including size, shape, and profile. We also offer the top implant lines in both silicone and saline options. Our board-certified plastic surgeons have the knowledge and experience necessary to guide you through the decision process and provide the attractive, natural-looking results you are hoping for.
Breast Augmentation

Before & After Photos
WARNING:
This feature contains nudity. Please click OK to confirm you are at least 18 years of age and are not offended by such material.
How Do You Choose Breast Implant Size?
Often the first decision our breast augmentation patients ask about is implant size. It's important to understand that implant size and bra cup size are not the same things. Our surgeons take into account physical attributes, including the amount of breast tissue you have, and the natural placement and width of your breasts, in addition to your desired breast size, when recommending breast implant size. They strive to provide results that look naturally beautiful. Our blog post, How Big Is Too Big?, offers additional information about the factors our surgeons consider.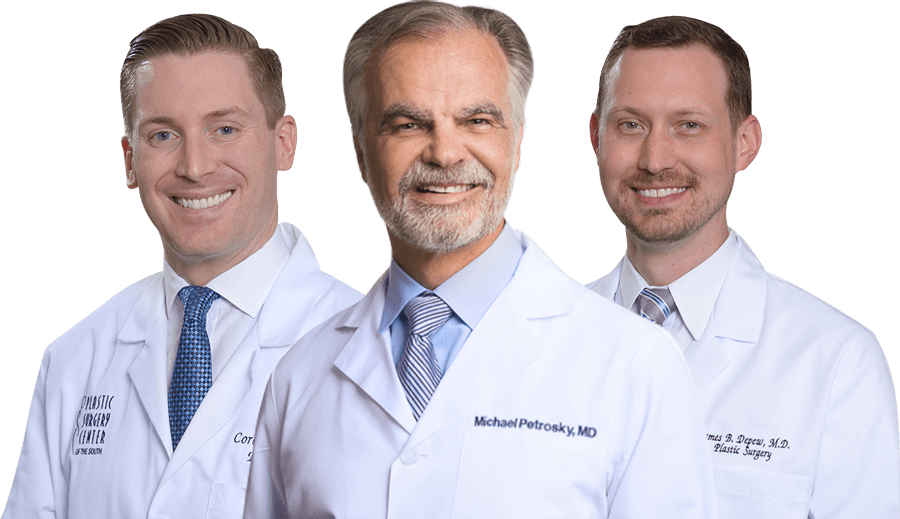 Meet Our Surgeons
Committed to the core values of ethics, integrity, honesty and education, our board-certified plastic surgeons draw patients from Atlanta and across the U.S.
Credentials You Can Trust

Request Your Consultation
What Is the Best Breast Implant Material?
Breast implants have a solid silicone shell that may be filled with either saline solution (sterile salt water) or elastic silicone gel. Both saline and silicone implants are FDA-approved for safety, and each has advantages and tradeoffs:
Saline Breast Implants
Typically, lower cost
Can be inserted with a smaller incision
In the case of implant rupture, saline is absorbed harmlessly
May not feel as natural
Can be used by patients as young as 18
Higher probability of rippling
Not recommended for patients with thin breast tissue
Silicone Gel Implants
Typically, higher cost
May require a slightly longer incision
Rupture may go undetected
Feels more natural
Can be used by patients 22+ years old
Lower probability of rippling
Can be used effectively on patients with thin breast tissue
The cost of breast augmentation is also affected by your choice of implant material.
An Award–Winning Team
Plastic Surgery Center of the South won Family Life magazine's "Best Of" contest for Canton for 2016, 2018, and 2019, and for Woodstock in 2017. Experience our difference for yourself.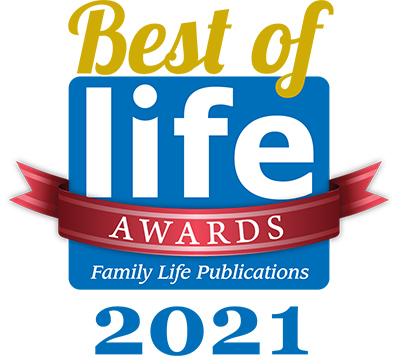 Other Factors
Your surgeon will help you understand other choices for your breast implants that can further personalize your final breast augmentation results. These choices include:
Implant Shape
Implants are available in 2 shapes: round or contoured (also called shaped, teardrop, or anatomical). Round implants provide more fullness at the upper part of the breast. Shaped breast implants have more fullness at the bottom of the implant, which is sometimes believed to more closely mimic the natural shape of your breasts.
Implant Profile
An implant profile specifies how far the implant projects from the chest. Options such as moderate, moderate plus, or high profile allow your surgeon to match your desired breast size with your individual body frame. A moderate profile breast implant generally has a wider base than a high profile breast implant with the same amount of filling. 
Our photo gallery of before and after pictures demonstrates how various implant profiles look after breast augmentation procedures.
Implant Texture
Texture describes the outside covering of the implant, which is either smooth or textured. Scar tissue adheres closely to textured implant surfaces, helping to prevent them from moving around inside the breast. For this reason, teardrop implants, which have more fullness at the bottom of the implant than at the top, are textured to help keep them oriented properly. Round implants are available with smooth and textured coverings.
Will My Implants Soften Over Time?
Sometimes called "drop and fluff," the process of breast implants softening and settling can take from 6 weeks to around 3 months. When tissues are swollen and tight, the implants may seem firm and high on the chest. Over time, the skin stretches, muscles relax, and the breasts begin to take on a more natural shape and position as the implant settles into the pocket. Each woman is different, but this typically happens by around 3 months post-op. It is not unusual for the process to take longer or for a woman's breasts to settle at different rates.
Plastic Surgery Center of the South takes pride in helping women of all sizes and shapes get the most from their breast augmentation surgery. Call our office today at (770) 421-1242 to get answers to any of your questions about breast implants and breast enhancement surgery. You can also request a consultation online to meet with one of our surgeons in person.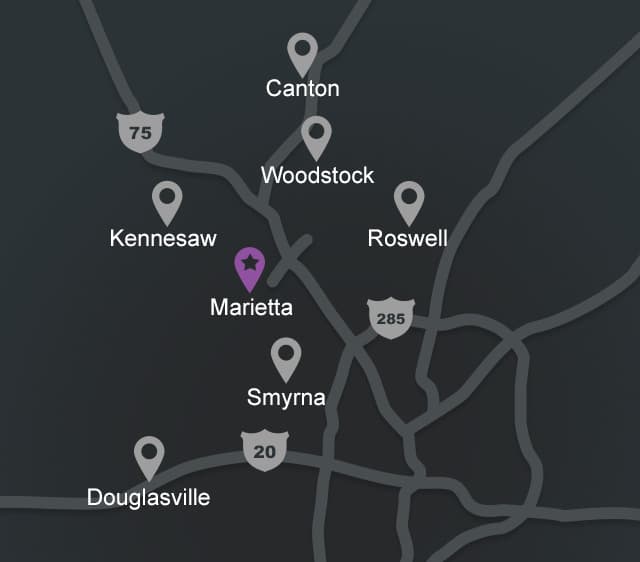 How to Visit Us in Marietta
Because of our top-notch patient care and beautiful results, Plastic Surgery Center of the South has built a strong reputation in the region. If you are interested in visiting our Marietta practice from a nearby community, choose your area below to get easy-to-follow driving directions.
Roswell
Canton
Smyrna
Douglasville
Kennesaw
Woodstock
Back to Top