Plastic Surgery Center of the South
120 Vann Street Northeast #150
Marietta, GA 30060
Phone: (770) 421-1242
Monday-Friday: 9 a.m.–5 p.m.

Tummy Tuck
Looking your best means reflecting health and vitality, and a flatter tummy is one of the top indicators of these qualities. Events such as pregnancy or significant weight changes can cause the skin and the underlying muscles to stretch, preventing them from returning to their original shape. If you are tired of trying to tighten excess sagging skin or flatten a tummy bulge, Plastic Surgery Center of the South's board-certified plastic surgeons can help you look your best by performing abdominoplasty, often called tummy tuck surgery. Their Marietta practice serves metro Atlanta, Smyrna, Roswell, and Sandy Springs, GA.
Abdominoplasty/Tummy Tuck

Before & After Photos
WARNING:
This feature contains nudity. Please click OK to confirm you are at least 18 years of age and are not offended by such material.
Who Is a Good Candidate for a Tummy Tuck?
The best tummy tuck candidates usually agree with at least one of the following statements:
You're generally healthy and in good shape but bothered by large fat deposits or loose skin around your abdomen that don't respond to diet and exercise.
You've had multiple pregnancies that have left your skin and muscles stretched beyond the point that they can return to normal.
The skin of your abdomen has lost a significant amount of tone and elasticity as the result of aging or weight fluctuations.
If you're slightly overweight and frustrated by the presence of excess skin, a tummy tuck can greatly enhance your appearance. If you plan on losing a lot of weight or becoming pregnant, you should postpone the surgery. In some cases, your doctor can help you choose an alternative procedure that's more appropriate for your lifestyle.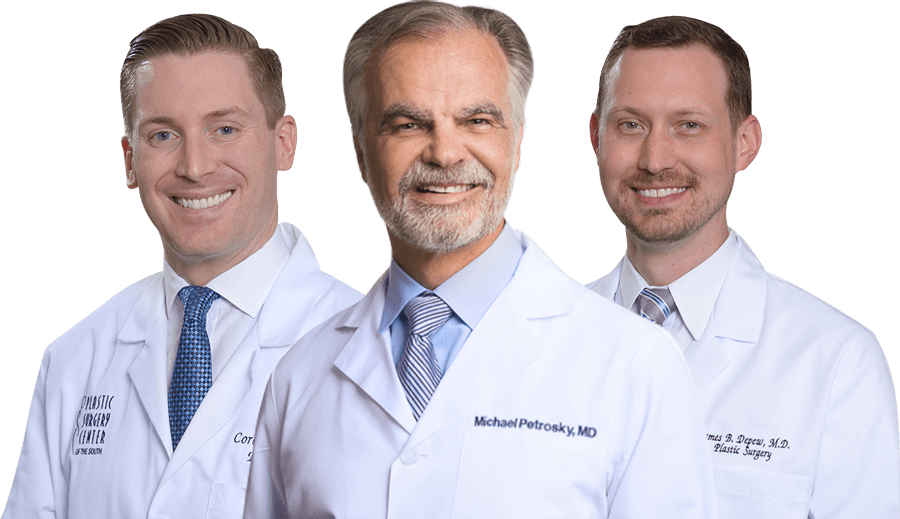 Meet Our Surgeons
Committed to the core values of ethics, integrity, honesty and education, our board-certified plastic surgeons draw patients from Atlanta and across the U.S.
Credentials You Can Trust

Request Your Consultation
Should I Have Liposuction or a Tummy Tuck?
While liposuction and a tummy tuck both can improve the appearance of your midsection, these plastic surgery procedures have different purposes. Liposuction removes fat, making it good for patients who simply have a belly bulge and relatively elastic abdominal skin, meaning it will "bounce back" after underlying fat is removed. A tummy tuck is appropriate when there is loose, stretched skin and/or separated abdominal muscles. Many patients make good candidates for a combination of both treatments, which can be determined after a personal consultation with the plastic surgeon.
Your Tummy Tuck Procedure
Our patients choose tummy tuck surgery, technically called abdominoplasty, at our metro Atlanta practice to renew their abdominal areas. Performed while you are under general anesthesia, abdominoplasty typically treats 3 specific areas of concern:
Loose skin: In a process called redraping, your surgeon removes some of the loose, stretched skin from your abdomen and pulls the remaining skin taut for a smooth, proportionate contour.
Excess fat: Your surgeon carefully reduces fat deposits, using selective tumescent liposuction where it's needed.
Weakened muscles: Occasionally, pregnancy and even a significant weight loss can leave the abdominal muscles weakened, loose, or displaced. During your tummy tuck, your surgeon can repair these muscles, strengthening them with internal sutures.
The result of these 3 components working together is a deep, comprehensive, long-lasting change that improves both the strength of the abdomen as well as its appearance. If the loose skin and fat deposits are limited to the lower abdomen, a partial abdominoplasty, or "mini tummy tuck" may be recommended by your Marietta plastic surgeon.
An Award–Winning Team
Plastic Surgery Center of the South won Family Life magazine's "Best Of" contest for Canton for 2016, 2018, and 2019, and for Woodstock in 2017. Experience our difference for yourself.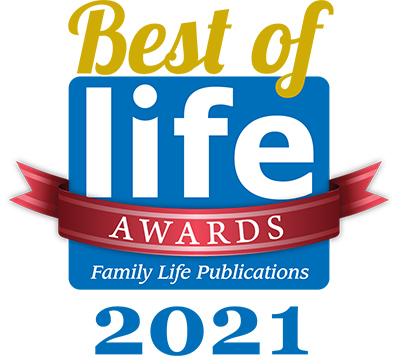 What Is a Full Tummy Tuck?
The traditional tummy tuck is often called a full tummy tuck to distinguish it from the more limited mini tummy tuck. Most patients with excess skin and separated abdominal muscles are candidates for a full tummy tuck. This technique involves a horizontal incision running from hip to hip just above the pubic area, as well as an incision around the navel.
The surgery involves repositioning the belly button, repairing abdominal muscles that are stretched or separated, and tightening excess skin both above and below the abdomen. Tumescent liposuction is also commonly used to reduce fat during the operation.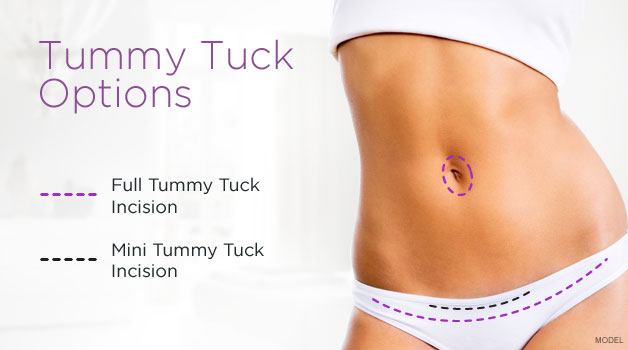 What Is a Mini Tummy Tuck?
In certain cases, a patient doesn't require a more extensive procedure to get a flatter stomach. When excess skin is limited to the area below the bellybutton, a modified abdominoplasty—often called a mini tummy tuck—is enough to get the desired results.
The primary difference between a mini and full tummy tuck is that the surgeon makes only a single, horizontal incision, which is usually shorter, and the bellybutton isn't involved in the procedure. A good candidate for this procedure is someone whose skin retains much of its elasticity and whose abdominal muscles remain relatively tight. This version of the procedure tends to provide an easier recovery period, but it's not appropriate for everyone.
How Much Does a Tummy Tuck Cost in Atlanta?
The average cost of a tummy tuck in Atlanta, GA, is based on a number of factors, including the type of tummy tuck performed, the surgeon's expertise, anesthesiology fees, and hospital or surgery center fees. Our surgeons provide patients with a personalized cost estimate after the one-on-one consultation. Learn more about tummy tuck costs in our related blog post, Understanding the Price of Your Tummy Tuck.
How Long Does It Take to Recover From a Tummy Tuck?
Most patients feel comfortable returning to work after about 2 weeks, when sutures and drains are removed; those with physically demanding jobs may require more time spent at home. Many patients will continue to wear a compression garment for several more weeks. Expect to be able to return to most normal activities in a couple of weeks and strenuous activities within 4 to 6 weeks. Review our Tummy Tuck Recovery page for more details.
Is a Tummy Tuck Worth It?
After recovery, expect to enjoy an enhanced body contour and increased comfort in clothing. Many of our patients say they wish they hadn't waited so long to have a tummy tuck because of how great they look and feel afterward.
Tummy Tuck FAQ
Why can't I improve my abdomen with exercise?
Our surgeons emphasize that body contouring patients should first attempt to remedy their concerns by adjusting their diet and exercise habits. Although a healthy lifestyle can help many people achieve their aesthetic goals, it isn't always the best solution for everyone, especially if loose or sagging skin is a primary concern. In some cases, particularly after childbirth or a significant weight loss, skin doesn't have the opportunity to "bounce back" and tighten in relation to the body's new contours. The presence of this skin, which can make people feel extremely self-conscious, is one of the primary reasons people pursue tummy tuck surgery.
How much weight can I lose with a tummy tuck?
We like to remind patients that although this procedure removes excess skin and fat, it's not a weight-loss treatment. Rather, it's usually appropriate for people who have already lost weight and need to remove skin that's left behind. Good candidates are close to their ideal weights and lead healthy lifestyles to maintain their results.
Will a tummy tuck remove my stretch marks?
Because most tummy tuck surgeries remove a portion of excess skin, it's possible that your procedure may remove some abdominal stretch marks. Many mothers are also pleased to learn that some C-section scars can also be removed. During your consultation, your surgeon will evaluate your abdomen and help you better visualize your results.
Is it possible to undergo a tummy tuck at the same time as another procedure?
Yes. Many of our patients choose to undergo a tummy tuck in conjunction with a breast enhancement surgery, a combinational procedure known as a Mommy Makeover. Our patients may also choose liposuction or another type of body contouring in order to further refine their contours. If you wish to improve more than one part of your body through plastic surgery, you and your surgeon will discuss your available options during your consultation.
Why do you need surgical drains after a tummy tuck?
Surgical drains are small tubes that drain fluid away and out of the body. When tissues are separated, repositioned, and removed, space is created that will fill with fluid (called seroma). Drains play an important part in recovery from a tummy tuck by preventing seromas and the numerous complications they cause. Fluid will gradually stop accumulating at the surgical site, and then your surgeon will remove the drains. This painless process usually takes place about a week after your surgery.
Are tummy tucks just for women?
Not at all! Although many tummy tuck patients are women interested in improving their abdomens after pregnancy, the surgery is by no means exclusively for women. At Plastic Surgery Center of the South, we see a number of men each year interested in removing excess skin and fat to make their abdomens more proportionate to the rest of their bodies. Although both men and women may have tummy tuck surgery, men typically have very different aesthetic goals than women, focusing more on revealing a muscular, toned abdomen. Our surgeons work closely with you to develop a technique that suits your individual body.
How long should I wait to get a tummy tuck after pregnancy?
Our surgeons recommend waiting at least 6 months after delivery to have a tummy tuck. It is important to give your body a chance to fully recover from pregnancy and return as close to its original size and shape as possible. You should be at a stable, healthy weight before the procedure as well.
Can you have a baby after a tummy tuck?
It's perfectly safe to become pregnant after a tummy tuck, but our surgeons often advise patients to postpone their surgeries until they're done having children. This is because the changes that a woman's body undergoes during pregnancy can affect the aesthetic results of her surgery, possibly requiring a revisionary procedure later on. We're happy to discuss your family plans with you to decide on a timeline that works for you.
What do tummy tuck scars look like?
In order to create the most significant and long-lasting results, traditional tummy tuck surgery uses a horizontal incision that extends from hip to hip. The incision is low enough on the abdomen to allow it to be concealed by clothing and swimwear. Our surgeons understand that scarring is a major concern of most patients, and they advise you on proper care during your recovery to ensure quick healing and a very discreet scar.
How long do the results of a tummy tuck last?
Avoiding major weight changes goes a long way toward maintaining your results. By getting regular exercise and eating a healthful diet, your skin will likely stay taut and your muscles strong and toned for many years. Tummy tuck is a significant cosmetic procedure, and, as such, its results are enduring.
People come to Plastic Surgery Center of the South for tummy tuck surgery from Roswell, Woodstock, Canton, and Acworth, GA, because our experienced, highly trained plastic surgeons achieve beautiful results. Request a consultation online to meet personally with one of our surgeons, or call us at (770) 421-1242 to schedule an appointment.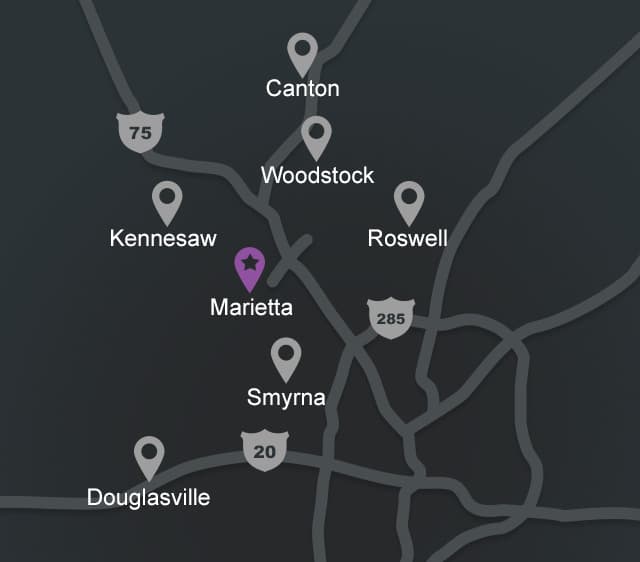 How to Visit Us in Marietta
Because of our top-notch patient care and beautiful results, Plastic Surgery Center of the South has built a strong reputation in the region. If you are interested in visiting our Marietta practice from a nearby community, choose your area below to get easy-to-follow driving directions.
Roswell
Canton
Smyrna
Douglasville
Kennesaw
Woodstock
Back to Top