Plastic Surgery Center of the South
120 Vann Street Northeast #150
Marietta, GA 30060
Phone: (770) 421-1242
Monday-Friday: 9 a.m.–5 p.m.

Hydrafacial®
Your skin deserves a spa day of its own. Plastic Surgery Center of the South recommends a Hydrafacial at our metro Atlanta med spa in Marietta, GA. Much more than an ordinary day spa facial, Hydrafacial is a high-tech skin rejuvenation treatment performed with specialized equipment and personalized to your unique skincare needs and concerns. Both relaxing and rejuvenating, Hydrafacial improves the health, appearance, and texture of your skin.
What It Treats
Hydrafacial addresses a variety of concerns that can be specifically addressed with the help of specialized booster serums. Skin conditions we commonly target include:
Wrinkles and fine lines
Reduced elasticity and lack of firmness
Dryness
Excess pigment and dark spots
Redness
Uneven texture
Acne and clogged pores
Enlarged pores
Who Is a Good Candidate?
Hydrafacial is gentle enough for people in their teens and up and for practically every skin type, tone, and texture. It is safe for the face and other areas like the upper back and chest.
How It Works
We use the proprietary Hydrafacial system and its specialized treatment wands during the Hydrafacial session. Each step below is personalized to the patient's skin condition and concerns:
Step 1. CLEANSE to wash away surface debris and exfoliate dull, damaged skin cells with hydra-dermabrasion (water pressure) and a gentle chemical peel.
Step 2. EXTRACT sebum and impurities from clogged pores with painless vacuum pressure.
Step 3. HYDRATE thirsty skin cells by infusing a customized booster serum.
Hydrafacial doesn't conceal or temporarily calm skin conditions; it penetrates beneath the surface to improve the skin's health from within.
What To Expect
Our skilled esthetician will meet with you for a consultation to ensure Hydrafacial is right for you and help you choose your treatment options. You will then relax in our treatment chair as your skin is pampered. Treatments take about 30 minutes to complete.
No downtime is needed so you can resume your regular routine, apply makeup, and head out to a special event right away.
Can Hydrafacial be combined with other treatments?
Hydrafacial pairs well with other facial rejuvenation treatments such as the following:
How Many Hydrafacials Does It Take To See Results? 
Most people enjoy the Hydrafacial glow along with smoother, softer skin after their first treatment.
How Often Should You Get a Hydrafacial? 
We recommend making Hydrafacial a part of your monthly skincare routine because the results build on each other.
Plastic Surgery Center of the South has created a relaxing atmosphere to provide treatments, products, and services that are safe, effective, and of the utmost quality. To learn more about Hydrafacials and other skin rejuvenation treatments, call our esthetician at (770) 421-1242 to schedule your consultation at our med spa.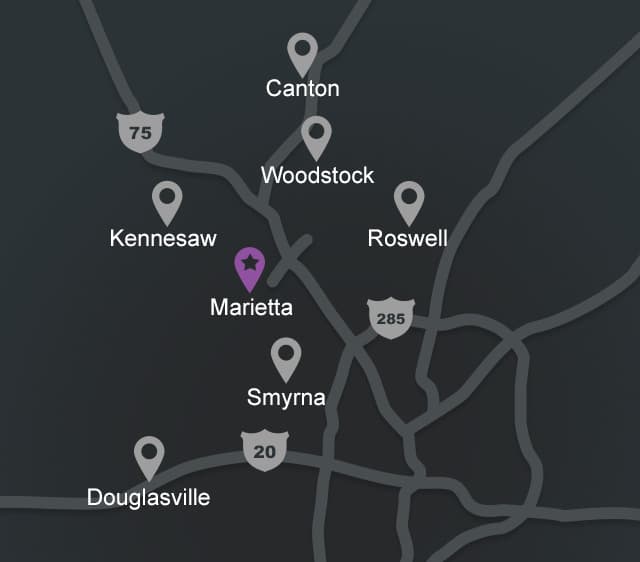 How to Visit Us in Marietta
Because of our top-notch patient care and beautiful results, Plastic Surgery Center of the South has built a strong reputation in the region. If you are interested in visiting our Marietta practice from a nearby community, choose your area below to get easy-to-follow driving directions.
Roswell
Canton
Smyrna
Douglasville
Kennesaw
Woodstock
Back to Top