Plastic Surgery Center of the South
120 Vann Street Northeast #150
Marietta, GA 30060
Phone: (770) 421-1242
Monday-Friday: 9 a.m.–5 p.m.

Patient Testimonials
Our board-certified plastic surgeons in Marietta, GA, help many metro Atlanta residents feel good about the way they look. Read just a few of the testimonials from patients who have visited Plastic Surgery Center of the South for cosmetic surgery and medical spa services.
To meet with one of our board-certified plastic surgeons in person for your one-on-one consultation, call us today at  (770) 421-1242 to make an appointment or request a consultation online.
---
Dr. D –
This is (…) my one year operation anniversary that you performed on me. Your efforts help save my life when things were not looking too good. I thank you for your tremenous effort in taking care of me. Your care and concern was amazing. I speak of you often!
Guess what…….I didn't even vomit when thinking of you! If you recall, for the first few times you came by to check on me, I was not feeling well and subsequently, was vomiting. Nothing personal!
I am doing well. I have gained back about 30 pounds of the 60 that I lost. I'm seeing Dr. Snipelisky instead of Dr. Death (Howard). I scored in the 91st percentile on my stress test that I took over 8 weeks ago. I am working hard almost every day in the gym and twice a week at the cardiac rehab facility in Hiram. I bike, lift weights and run as much as I can each time.
Again thanks so much for all that you did for me! Hope your kids are doing well, picking up and speaking foreign languages.
Thanks
---
I just wanted to let Dr. Petosky know I love my nose job 20 years later. It has enhanced my appearance and self-confidence. Believe it or not, I was bullied in school and as a young child, I had low self-esteem because the kids made fun of my nose. If I had to do it all over again I would. Dr. Petrosky, you're the best plastic surgeon I know. My friends can't believe I'm 49 years old and will turn the big on 5-0 December 25.
Because God could not be everywhere he made sure that we have doctors like you who have the gift.
Thank you.*
---
Dr. Petrosky,
I know I have told you thank you in the past, but I want you to know how truly grateful I am. As I have adjusted and my new breasts have become apart of me, I realize what a gift they are. Cancer took a part of me and it was a great loss. You helped me feel whole again.
You were such a blessing during such a difficult time. You are the kind of doctor who helped and supported me in so many ways, Thank you for your patience with many questions, your reassurance when I was worried or scared, and your compassion when I was in pain. You are a knowledgable, supportive doctor and I couldn't have asked for better!*
---
Thank you so much for making a bad situation a great experience for me. You were all so kind and very helpful. Thanks again!*
---
Thank you so much for all you've done to show how much you care. Your loving thoughts & support mean the world to me and my family as I undergo treatment.
P.S. Thank you for the prayers and keep them coming.*
---
For several years I avoided looking into the mirror. I would only quickly glance to make sure my makeup looked alright before I left for work. I resigned myself to the notion that I was getting older: double chins; eyelid hoods; bags under my eyes; and those "Howdy Doody" lines around my mouth. Although I never imagined that I would have a face lift, at 65 I decided if not now, when?
Dr. Petrosky is a master surgeon, an artist, and a compassionate physician. Within twenty-four hours after the surgery I looked in the mirror and saw an old friend! Although I was swollen and had some discoloring, I saw the "me" I remembered. My appearance is now the better version of myself. What I did not anticipate was the joy I felt on the inside. I love the way I look. Having this procedure not only improved my physical appearance but filled me with a renewed confidence.
My experience with Dr. Petrosky, the office staff, and the certified registered nurse anesthetist at the Plastic Surgery Center of the South helped to make this one of the best decisions I have ever made for myself.*
---
Dr. Petrosky and the Wonderful PSCS Staff,
Thank you all for taking such great care of me. I was scared and nervous before coming to your office, but your welcoming and comforting staff helped me feel at home. I appreciate your top-notch care along with your genuine concern for your patients. Thank you!*
---
*Individual results may vary.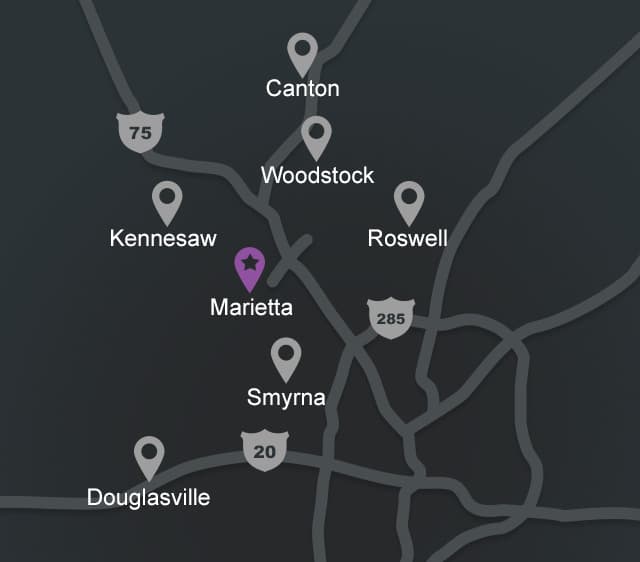 How to Visit Us in Marietta
Because of our top-notch patient care and beautiful results, Plastic Surgery Center of the South has built a strong reputation in the region. If you are interested in visiting our Marietta practice from a nearby community, choose your area below to get easy-to-follow driving directions.
Roswell
Canton
Smyrna
Douglasville
Kennesaw
Woodstock
Back to Top