Plastic Surgery Center of the South
120 Vann Street Northeast #150
Marietta, GA 30060
Phone: (770) 421-1242
Monday-Friday: 9 a.m.–5 p.m.

Injectable Treatments
What is all the rave about? Have you seen the movie stars with their plump lips, prominent cheekbones, and smooth skin, and wondered how they look so good? The answer is injectable treatments. With options such as RADIESSE®, Restylane®, JUVÉDERM®, and BOTOX® Cosmetic injections, people from Roswell, Woodstock, and Douglasville, GA can look younger and more attractive with no downtime. These simple treatments can smooth lines, lift your brows, remove the sunken areas from your face, and define and enlarge your lips.
Women and men come to the medical spa at Plastic Surgery Center of the South from all over Georgia, as well as other states and countries. We are conveniently located in Marietta close to all interstate highways. Call us today at  (770) 421-1242 for any of your questions regarding injectable treatments.
Allē Rewards Program
Earn Points for the Treatments & Products You Love
Join Allē and start earning points you can spend on Allergan Aesthetics™ products like BOTOX® Cosmetic and JUVÉDERM® just by coming in for your favorite cosmetic treatments. This modern, streamlined version of Brilliant Distinctions® is easy to join and simple to use. Here's how:
Visit the Allē website to register and get program details.
Come in for a cosmetic treatment or product; Allergan or not, it all counts.
Let us know you're an Allē member when you check out to earn your points.
Redeem points for savings on BOTOX and other Allergan products!
Learn More
Dermal Fillers
There are many dermal filler options available that can help restore a smoother, more youthful appearance. Our physicians at Plastic Surgery Center of the South are available to answer all your questions regarding fillers and which one would work best for you to give your that Georgia Southern Belle appearance. The most important fact to remember about injectable fillers is that the results are not permanent. You will not gain the same long-lasting results that you would have with cosmetic surgery.
Restylane®
Restylane® is a safe and natural cosmetic dermal filler made of non-animal based hyaluronic acid. Hyaluronic acid is a natural substance that already exists in the human body and is used to provide volume and fullness to the skin. Restylane is a very effective way to augment the lips and to correct mild to moderate facial wrinkles and folds from the nose to the corner of the mouth. Individual results may vary; however, studies show the Restylane will generally last for 6 to 12 months.
Restore volume and fullness with a variety of injectable fillers.
JUVÉDERM®
JUVÉDERM® is a dermal filler made of hyaluronic acid with more crosslinks that may last longer. It is used for smoothing folds and wrinkles, and sculpting lips. Results can last 6 months to a year.
JUVÉDERM VOLUMA® XC
Approved by the FDA in 2013, JUVÉDERM VOLUMA® XC is the first filler to be approved for replacing lost volume in the cheeks, a major component of facial aging. JUVÉDERM VOLUMA® XC uses the same active ingredient as JUVÉDERM® — hyaluronic acid — to add youthful-looking volume to the face, but it is formulated for deeper injection and long-lasting results. The results of a single treatment can last for up to 2 years.
Sculptra® and Restylane SubQ
Sculptra® and Restylane SubQ are other injectable materials that can be used for soft tissue augmentation. This adds volume to facial areas such as cheeks, depressions under the eyes and the chin area. Sculptra initiates an expansion of the body's own collagen, resulting in long lasting natural appearing results. The procedure normally requires at least 2 treatments and the results, although not immediate apparent as it produces volume over several months, can last several years.
RADIESSE®
RADIESSE® is a non-surgical facial contouring filler that delivers results that last longer than many other fillers. Whether you are longing to reverse the common signs of aging or address the lines that can make you look very serious or sad, even when your face is at rest. RADIESSE® is made of very tiny, smooth calcium hydroxylapatite (CaHA) microspheres. These particles form a scaffold through which your body's own collagen grows and this produces the long-term effects. The longevity averages 11 to 18 months depending on the area of correction.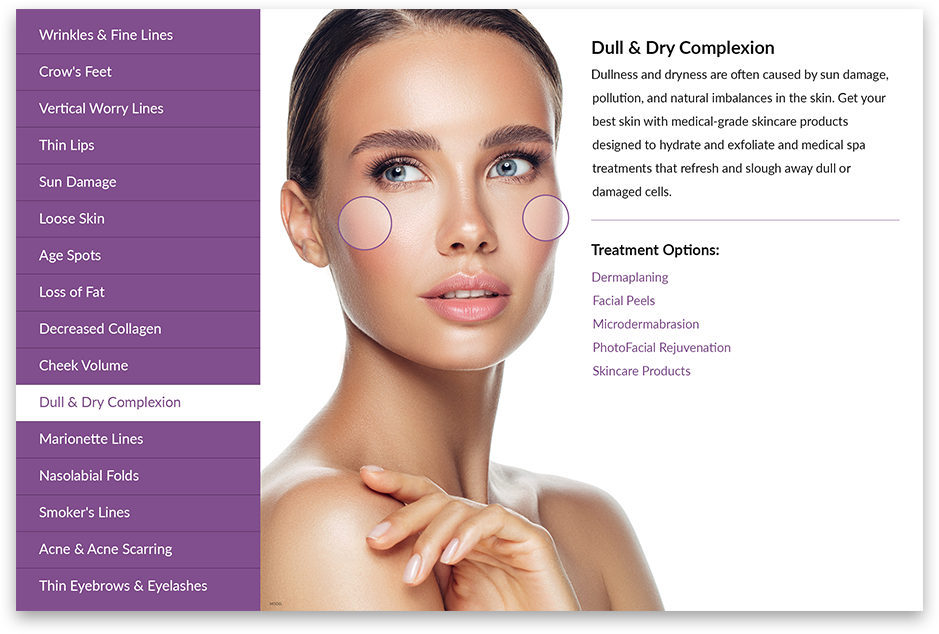 Not Sure
What You Need?
Use our interactive treatment planner to learn about the best medical spa treatments for any cosmetic concern you have. Explore our easy-to-use guide to find out which procedures, products, and services will help you bring your aesthetic goals to life.
Plan Your Treatment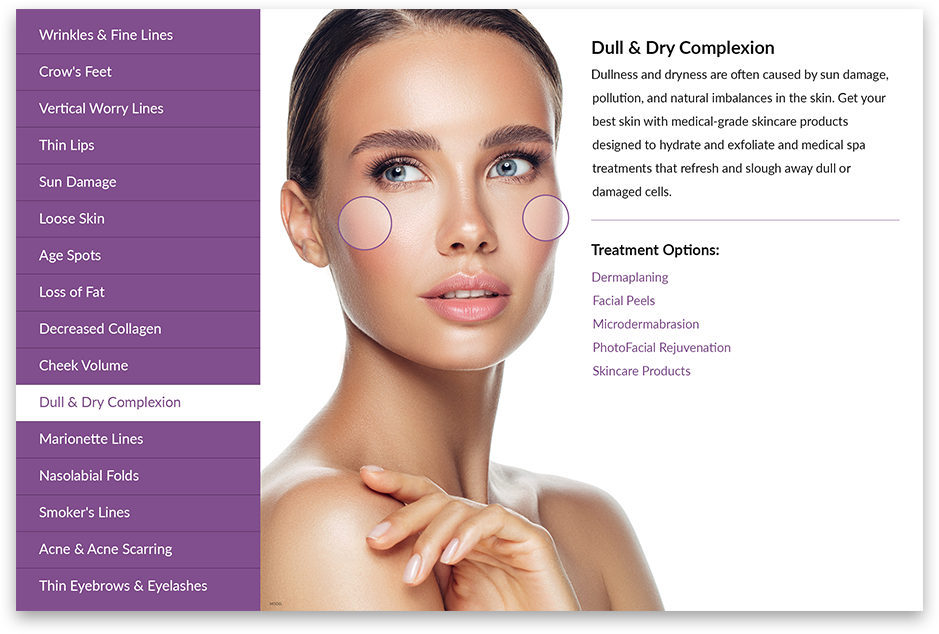 BOTOX® Cosmetic
BOTOX Cosmetic is a purified form of the botulinum toxin that temporarily stops contractions of muscles that causes facial wrinkles. Many facial wrinkles are caused by the contraction of facial muscles on skin that has become thinner due to age and sun damage. BOTOX affects these muscles so that they cannot contract and cause wrinkles, leaving the once wrinkles skin perfectly smooth. The usual treatment areas are vertical frown lines between the eyebrows and across the bridge of the nose, the horizontal forehead lines, crow's feet at the outer corners of the eyes, and the muscle bands in the neck.
Facial rejuvenation is very individualized. It is very important to discuss your expectations with a board-certified plastic surgeon at Plastic Surgery Center of the South. If you are like most patients, you will be very satisfied with your results from injectable treatments.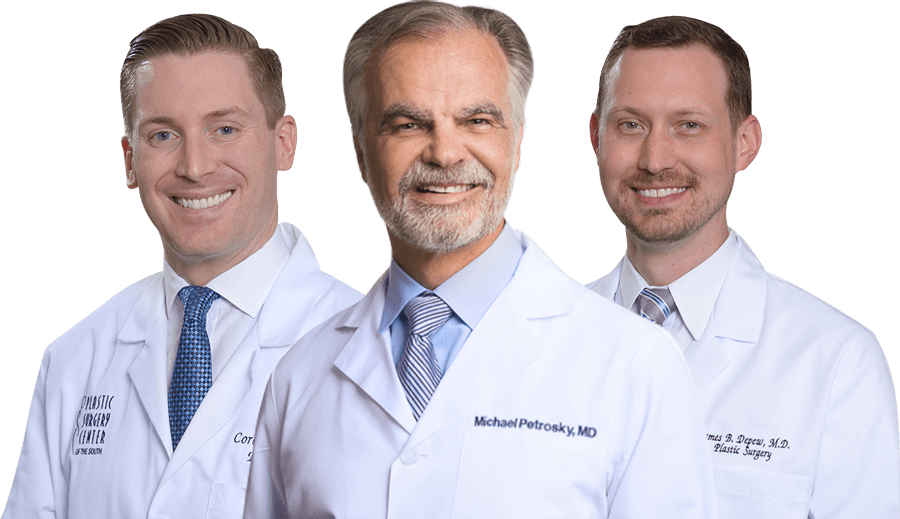 Meet Our Surgeons
Committed to the core values of ethics, integrity, honesty and education, our board-certified plastic surgeons draw patients from Atlanta and across the U.S.
Credentials You Can Trust

Request Your Consultation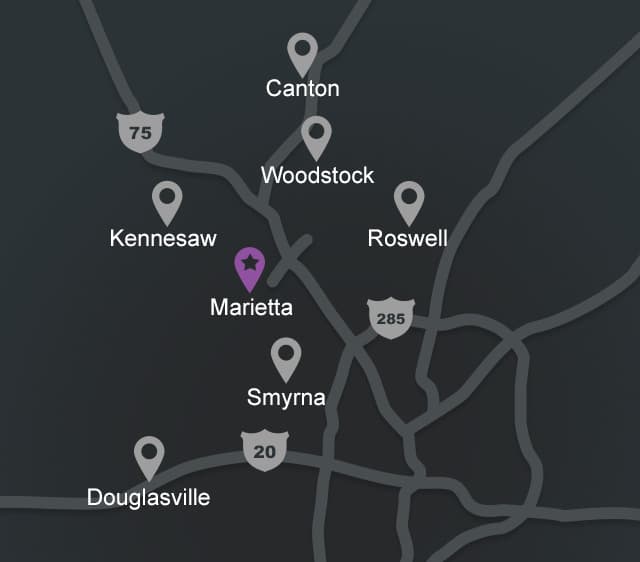 How to Visit Us in Marietta
Because of our top-notch patient care and beautiful results, Plastic Surgery Center of the South has built a strong reputation in the region. If you are interested in visiting our Marietta practice from a nearby community, choose your area below to get easy-to-follow driving directions.
Roswell
Canton
Smyrna
Douglasville
Kennesaw
Woodstock
Back to Top