Plastic Surgery Center of the South
120 Vann Street Northeast #150
Marietta, GA 30060
Phone: (770) 421-1242
Monday-Friday: 9 a.m.–5 p.m.

Forehead Lift
Often when we think of plastic surgery, we naturally think of the facelift. But a facelift actually improves the lower portions of the face only. To correct signs of aging in the upper face, a forehead (brow) lift is needed. Our patients from Atlanta, Smyrna, Roswell, Sandy Springs, and surrounding areas choose this procedure if their eyebrows sag or are positioned low, which creates a tired appearance. A forehead lift can also soften deep creases across the forehead and frown lines and furrows between the eyebrows and sometimes across the nose.
To schedule your appointment for a brow lift consultation at our office just outside of Atlanta, call us at (770) 421-1242 or request a consultation online. Brow lift surgery rejuvenates your appearance on its own, but it is commonly combined with other rejuvenating procedures such as eyelid surgery, laser skin resurfacing, or facelift.
Brow Lift Candidates
Do you think brow lift is only for the older patient? Wrong. Young adults who have low brows or already have the deep frown lines due to stress or overactivity of the muscles may also benefit from this procedure. At Plastic Surgery Center of the South, our board-certified plastic surgeons are on hand to answer all your questions regarding forehead lift surgery. You should be very frank in discussing anything about your appearance that bothers you. This allows your physician to understand your expectation and to help achieve the results.
A forehead lift can give you a fresher and younger look that lasts for years.
This procedure lifts the forehead, and with it the brows and tissues around the eyes, to give the patient a more rested and youthful appearance. A forehead lift is most often used to improve facial characteristics as drooping eyebrows or drooping tissue at the outer part of the eyes, furrowed forehead and frown lines at the top of the nose. The desired result is more alert and less tired appearance, smoother forehead skin and softer lines between the eyes. Often a forehead lift is performed in conjunction with a facelift.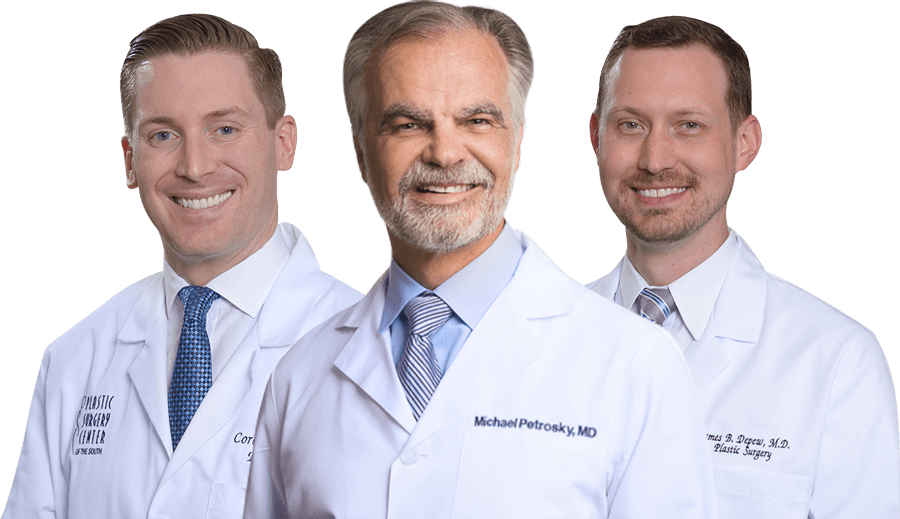 Meet Our Surgeons
Committed to the core values of ethics, integrity, honesty and education, our board-certified plastic surgeons draw patients from Atlanta and across the U.S.
Credentials You Can Trust

Request Your Consultation
An Award–Winning Team
Plastic Surgery Center of the South won Family Life magazine's "Best Of" contest for Canton for 2016, 2018, and 2019, and for Woodstock in 2017. Experience our difference for yourself.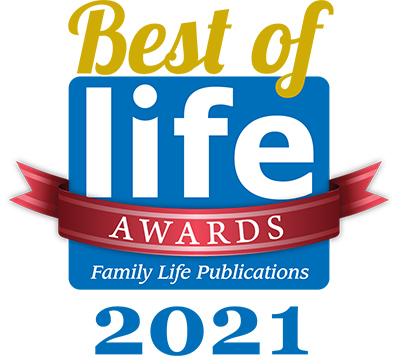 About Brow Lift Surgery
Forehead lift surgery is usually performed on an outpatient basis. The operation may be performed under local anesthesia with sedation or under general anesthesia depending on the extent of the procedure and the patient's medical condition. The length of the operation will vary depending of the complexity of the surgery. The incisions usually begin above the hairline in the scalp and extend within the natural contours of your forehead. Through these incisions the deeper tissue are addressed, the skin is re-draped and the excess skin is removed. The incisions are closed with fine sutures and the face and head bandaged. The incision is designed to be inconspicuous when healed. Through your forehead lift incision, your surgeon can modify or remove parts of the muscles that cause wrinkling and frown lines, remove excess skin, and lift your eyebrows to a more pleasing level.
Another technique uses an endoscope, a long thin tube with a light on the end, attached to a video camera. The endoscope is inserted through several tiny incisions in the scalp and allows your physician to see while working on the internal structures of the forehead. While this technique has the advantage of requiring minimal incisions, it may not be for all patients. Your surgeon will go over in depth the method or combination of methods preferred to give you the best result.
Recovering from a Brow Lift
After the surgery there are varying amounts of swelling and bruising about the face. You will be advised to keep your head elevated and to restrict your activities in the early post-operative period. Fortunately, the post-operative discomfort is surprisingly minimal and easily controlled by pain medication. Most of the sutures are removed within the first week, however, some stitches in the scalp may be left in longer. Many patients are back to work within two weeks of the surgery depending on the level of activity needed for their job.
Some of the potential complications may include hematoma (a collection of blood under the skin that may require removal), injury to nerves that control facial muscles and sensation (which is temporary), infection, reactions to anesthesia, and poor skin healing. Complications are infrequent and usually minor. Your plastic surgeon will discuss the risks and benefits with you prior to the procedure. It is important to talk about your expectations before surgery.
Your improved facial appearance may be subtle or dramatic depending on your pre-operative condition. A forehead lift will make you look fresher and younger and your improved appearance will last for years. To schedule your appointment, call us at  (770) 421-1242 or request a consultation online. Our patients travel from all over the world to come to us because they get the treatment, results and service they deserve. We are conveniently located off major interstates in Marietta, Georgia, in the Atlanta region.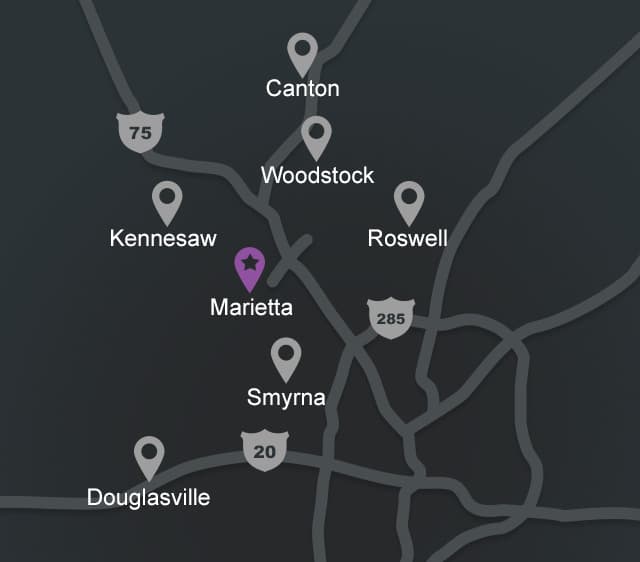 How to Visit Us in Marietta
Because of our top-notch patient care and beautiful results, Plastic Surgery Center of the South has built a strong reputation in the region. If you are interested in visiting our Marietta practice from a nearby community, choose your area below to get easy-to-follow driving directions.
Roswell
Canton
Smyrna
Douglasville
Kennesaw
Woodstock
Back to Top