Plastic Surgery Center of the South
120 Vann Street Northeast #150
Marietta, GA 30060
Phone: (770) 421-1242
Monday-Friday: 9 a.m.–5 p.m.

Mommy Makeover Breast Enhancement Options
Mommy Makeover Breast Enhancement Options
All across the country, thousands of women have regained their confidence and comfort through Mommy Makeover surgery. The procedure, which is actually several procedures combined into one surgery, can be endlessly customized to suit the specific needs of each individual patient. Breast augmentation is a common choice for our Mommy Makeover patients from Woodstock, Acworth, Canton, and throughout metro Atlanta, but it's just one of several options for breast enhancement at Plastic Surgery Center of the South. Read on to learn about the different choices you have for your Mommy Makeover with us in Marietta.
To talk with one of our caring board-certified plastic surgeons about the changes you'd like to see, request a consultation using our online form or call us at (770) 421-1242.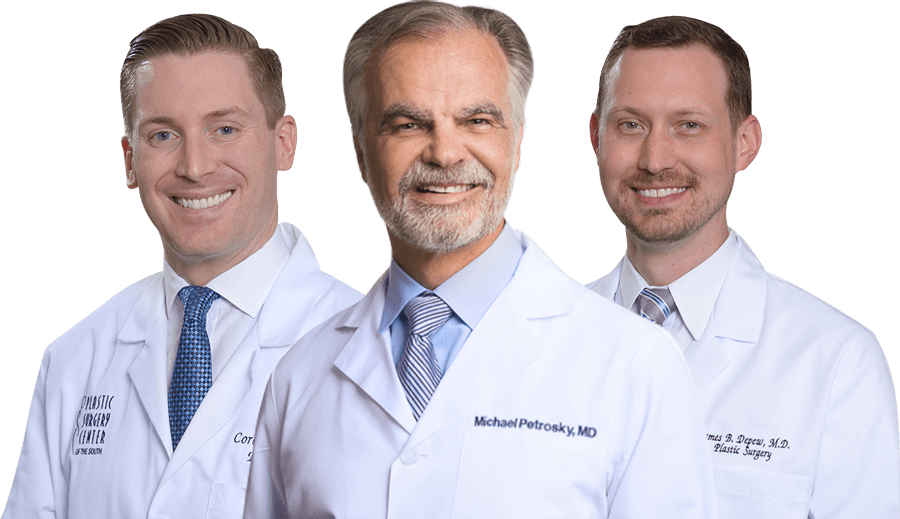 Meet Our Surgeons
Committed to the core values of ethics, integrity, honesty and education, our board-certified plastic surgeons draw patients from Atlanta and across the U.S.
Credentials You Can Trust

Request Your Consultation
An Award–Winning Team
Plastic Surgery Center of the South won Family Life magazine's "Best Of" contest for Canton for 2016, 2018, and 2019, and for Woodstock in 2017. Experience our difference for yourself.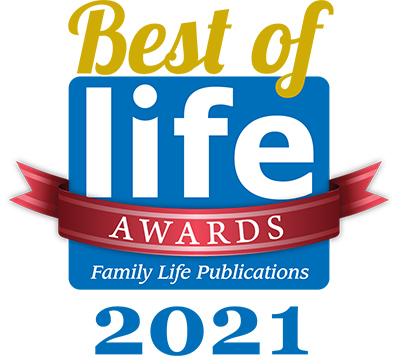 Breast Augmentation
Arguably the most popular breast enhancement procedure with Mommy Makeover patients, breast augmentation increases the size of the breasts with the addition of silicone or saline breast implants. In Marietta, Atlanta, and throughout Georgia, women choose the doctors at Plastic Surgery Center of the South for their sensitivity, understanding, and many years of combined experience. Breast augmentation may be a good choice for you if:
Your breasts have lost volume after pregnancy or breastfeeding
You're dissatisfied with your naturally small breasts
You've previously undergone surgical breast augmentation and wish to improve your results or upgrade your implants
Breast Lift
Sagging breasts are a natural part of the aging process. However, the changes caused by pregnancy and breastfeeding can expedite the process, causing breasts to sag (called ptotic breasts) earlier in life. Breast lift surgery doesn't change the size of the breasts, but it does improve their placement on the chest. Just as its name suggests, a surgical breast lift raises the breasts to a perkier, more youthful-looking position. A breast lift may be the right choice for you if:
Your nipples point downward or extend past the breast crease
Your breasts have sagged or lost their shape after breastfeeding
You are satisfied with the size of your breasts but unhappy with their placement
Combined Breast Augmentation & Lift
For women who are bothered by both the size and the position of their breasts, a combined breast augmentation and lift is a common option for a more comprehensive improvement. Adding a breast lift to a breast augmentation does not alter the recovery process and in many cases can provide optimal results. Our board-certified plastic surgeons often combine these surgeries during a Mommy Makeover. An augmentation/lift may be a good choice for you if:
You're unhappy with both the size and the position of your breasts
The shape, volume, and position of your breasts has changed significantly due to pregnancy or breastfeeding
Your concerns cannot be addressed fully by breast augmentation or breast lift alone
Breast Reduction
While breast augmentation is a popular choice, many women require breast reduction to streamline their silhouettes and complement their newly tightened, well-toned contours. Women with heavy, excessively large breasts can suffer emotionally as well as physically. Often, breast reduction provide long-lasting results and newly boosted confidence. This option may be the right choice for you if:
You frequently experience back, neck, or shoulder pain due to the weight of your breasts
The size of your breasts restricts you from certain activities such as working out
You feel self-conscious about the large size of your breasts and often cover up
The size of your breasts makes it difficult to find clothes that fit properly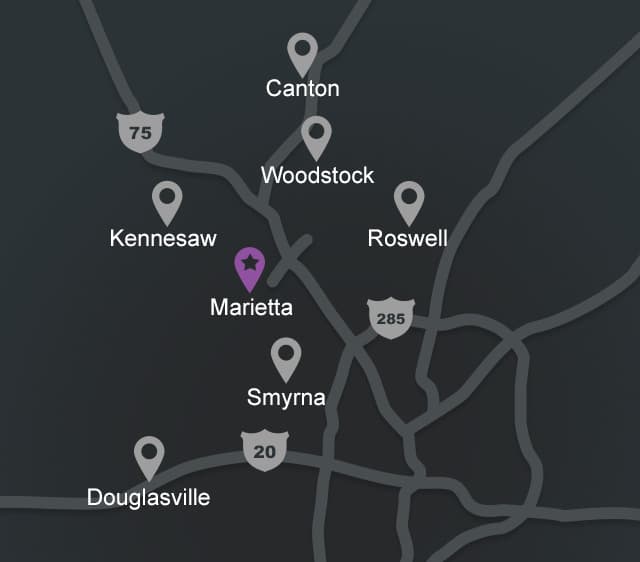 How to Visit Us in Marietta
Because of our top-notch patient care and beautiful results, Plastic Surgery Center of the South has built a strong reputation in the region. If you are interested in visiting our Marietta practice from a nearby community, choose your area below to get easy-to-follow driving directions.
Roswell
Canton
Smyrna
Douglasville
Kennesaw
Woodstock
Back to Top