Plastic Surgery Center of the South
120 Vann Street Northeast #150
Marietta, GA 30060
Phone: (770) 421-1242
Monday-Friday: 9 a.m.–5 p.m.

Vein Therapy
The latest in laser technology has now been applied to vein therapy at our Atlanta area practice. Our Candela GentleMax Pro® offers an effective alternative to vein sclerotherapy to correct those annoying spider or facial veins. With this state-of-the-art laser technology, we can also treat beard bumps, cherry angiomas, rosacea, and pigmented lesions to help women and men have clear, evenly colored skin.
Some frequently asked questions have been answered below, should you have questions or concerns that are not addressed, simply ask your technician.
Reduce annoying spider or facial veins with laser vein therapy.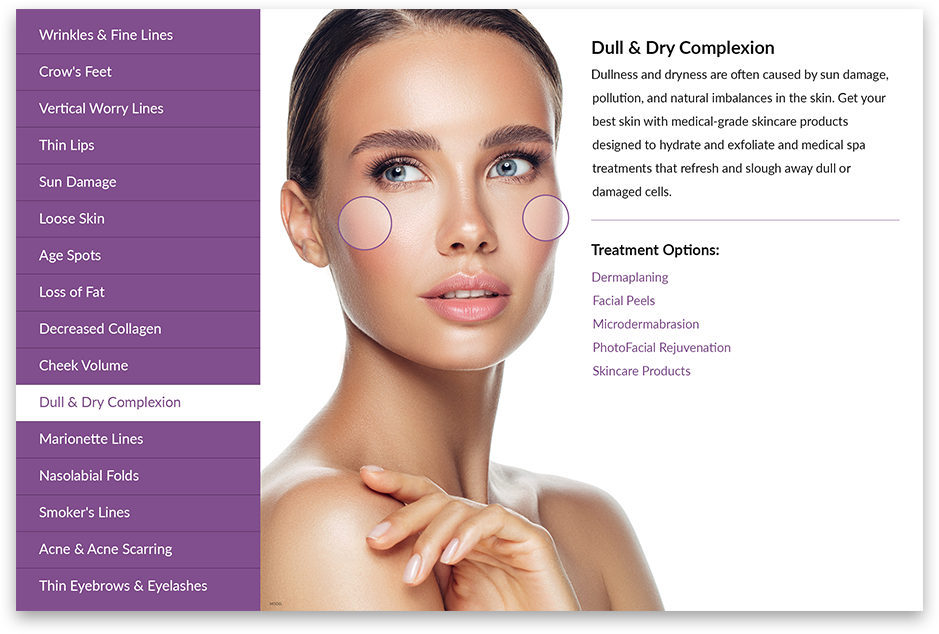 Not Sure
What You Need?
Use our interactive treatment planner to learn about the best medical spa treatments for any cosmetic concern you have. Explore our easy-to-use guide to find out which procedures, products, and services will help you bring your aesthetic goals to life.
Plan Your Treatment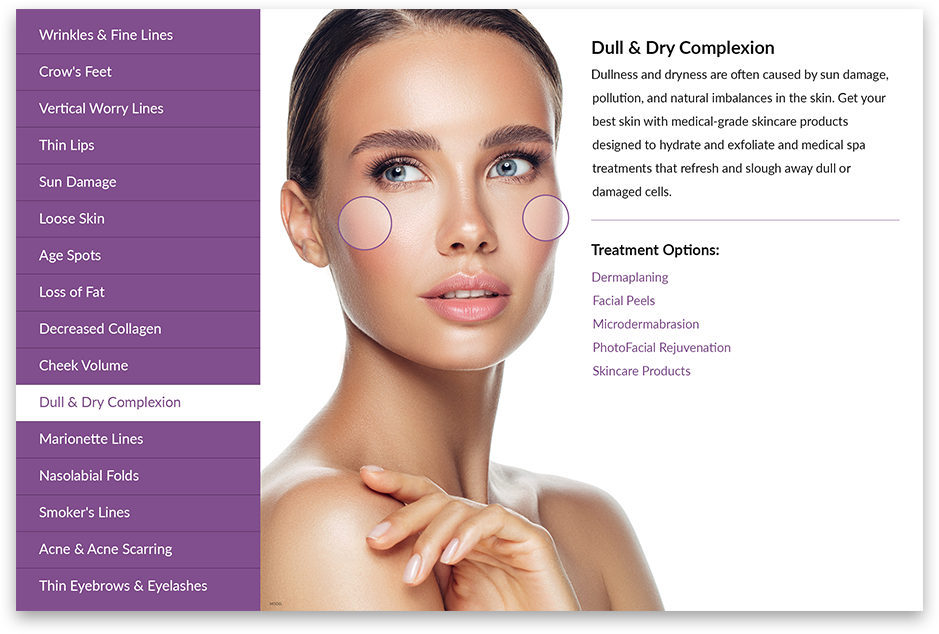 How does this laser work?
The GentleMax Pro system's 2 lasers make it safe and effective on all skin types; it has an Alexandrite laser for lighter skin and an Nd: YAG laser for darker skin. The laser energy is absorbed by the concentrated pigment in the vein (red blood cells), which is heated until the vein is destroyed and later absorbed by the body. The surface of the skin is unharmed. When treating brown spots, the laser energy heats up and breaks apart the concentrated melanin in the skin creating particles of pigment small enough to be flushed away by the body's cleansing processes.
An Award–Winning Team
Plastic Surgery Center of the South won Family Life magazine's "Best Of" contest for Canton for 2016, 2018, and 2019, and for Woodstock in 2017. Experience our difference for yourself.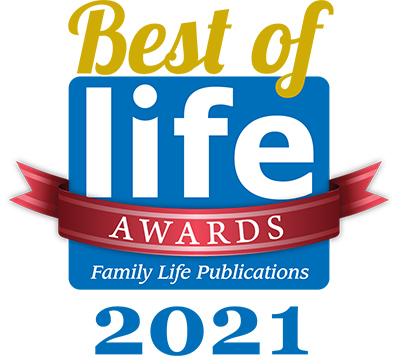 How long will it take?
This new technology works in a fraction of the time other methods require. An average procedure time usually lasts about 30 to 45 minutes. This will depend on the area that is being treated. Smaller areas can take as little as 15 minutes while others may need 45 to 60 minutes. Be sure to ask the technician how long they feel it may take. While you're here, you may want to consider having laser hair removal as well.
How many treatments will it take to work?
Usually the vein is collapsed right away, however, depending on the size and quantity of the veins in the area, it may take several weeks to fade out. Occasionally if there are several vessels to be treated it may take more than one treatment. As your body continues to produce new veins you may require future treatments.
Does it hurt?
The laser's chilled handpiece greatly reduces most pain during treatment. Most patients report a slight pinprick feeling depending on the location treated.
Are there any side affects?
Studies conducted on this laser have shown very little scarring. The most common side effect seen in about 17% of the patients treated is transient hyper or hypo-pigmentation; this will clear up in 1 to 6 months. Blisters rarely may occur at high energy levels, more with dark-skinned patients. Dark skinned patients also need to be careful if you have a tendency to keloid, although rarely occurs. It is possible that hair follicles in the area treated may be permanently damaged.
Post Treatment
You will experience a slight burning or stinging sensation; this should subside within 3 to 4 hours after treatment. Mild swelling could occur, but will only last 24 to 48 hours. Cortisone creams and/or ice packs will help with the burning, swelling or tenderness that you experience. Advil and Tylenol should help relieve any discomfort felt. For multiple veins of the legs it is a good idea to wear a graduated compression stocking for 3 days post-op. Any concerns or symptoms not addressed above please ask or call your technician.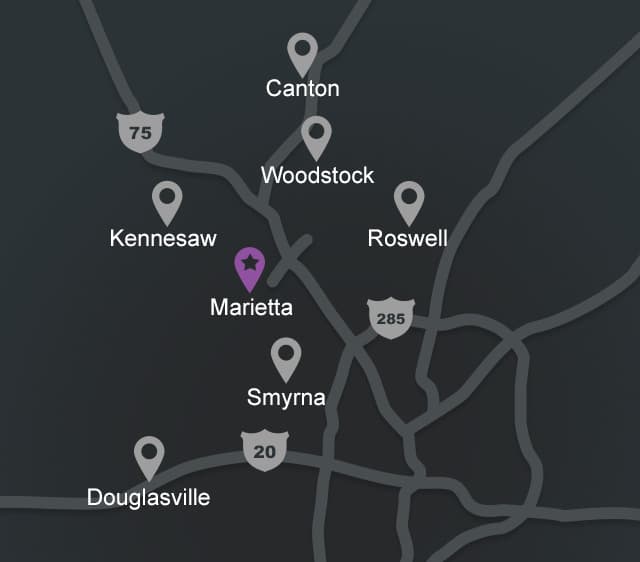 How to Visit Us in Marietta
Because of our top-notch patient care and beautiful results, Plastic Surgery Center of the South has built a strong reputation in the region. If you are interested in visiting our Marietta practice from a nearby community, choose your area below to get easy-to-follow driving directions.
Roswell
Canton
Smyrna
Douglasville
Kennesaw
Woodstock
Back to Top