Plastic Surgery Center of the South
120 Vann Street Northeast #150
Marietta, GA 30060
Phone: (770) 421-1242
Fax: (770) 424-6652
Monday-Friday: 9 a.m.–5 p.m.

Thermi®
Thermi is a versatile nonsurgical skin tightening system that helps us treat a wide range of concerns at our practice in Marietta, Georgia. Patients from Roswell, Woodstock, and throughout metropolitan Atlanta come to Plastic Surgery Center of the South for Thermi procedures that include tightening lax facial and neck skin and even vaginal rejuvenation using specialized ThermiVa® treatments. Thermi treatments don't require any downtime and typically take less than an hour. The FDA-cleared device uses controlled, gentle heat to stimulate your natural healing process, firming and toning tissues in many areas.
To learn more about how a Thermi radiofrequency treatment can help you, request a consultation using our online form or call us at (770) 421-1242 to schedule an appointment.
Not Sure
What You Need?
Use our interactive treatment planner to learn about the best medical spa treatments for any cosmetic concern you have. Explore our easy-to-use guide to find out which procedures, products, and services will help you bring your aesthetic goals to life.
Plan Your Treatment
Thermi Before & After Photos
Before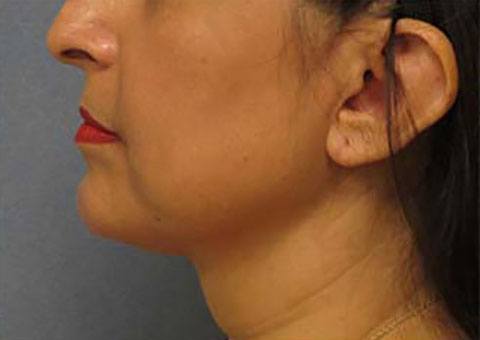 After
This woman is shown after a ThermiTight® treatment. This treatment not only tightens lax skin, it also shrinks fat cells in the target area.
Photos courtesy of Thermi Aesthetics
*Your results may vary.
Thermi Procedures

The Thermi platform actually supports 5 unique treatments designed to improve your appearance in specific areas of the body by harnessing the power of safe, effective radiofrequency energy. That energy stimulates the production of collagen and tightens loose, sagging skin on the face, neck, body, and vagina. Specialized probes and applicators designed for the specific treatment area enable our team to heat tissue with virtually no discomfort.
Learn more about each of your treatment options below.
ThermiVa
Childbirth, aging, and other factors can cause the tissues and muscles of the labia and vagina to lose sensitivity and become stretched and loose. ThermiVa offers an innovative solution without any discomfort or downtime.
ThermiVa can treat the external tissues of the vagina to restore tone and function or deliver radiofrequency to the internal vaginal structures, depending on your concerns. We use a specialized, wand-shaped applicator to comfortably apply energy where it will best help you.
ThermiVa Featured on The Doctors
Learn more about ThermiVa vaginal rejuvenation treatments in this video from The Doctors television program.
Good ThermiVa Candidates
Women of all ages can benefit from ThermiVa vaginal rejuvenation treatments at our Marietta practice. The procedure addresses a variety of concerns you may have about the function and appearance of your vagina. Patients considering vaginal rejuvenation:
Want to tighten vaginal tissues and muscles loosened significantly by childbirth or menopause
Are having trouble reaching orgasm and are experiencing problems with their intimate relationships
Feel dry during intercourse
Experience times when urine leaks when they cough, sneeze, or exercise
Some women have more than 1 of these concerns. Patients sometimes choose ThermiVa treatments as part of a Mommy Makeover. A consultation with one of our board-certified plastic surgeons can help pinpoint the exact nature of your physical concerns and determine if ThermiVa is an appropriate treatment.
It typically takes about 3 half-hour treatment sessions to get the desired results, although most patients begin noticing improvements after 1 or 2 treatments.
ThermiTight
If you're concerned with loose skin, especially in trouble spots such as the neck, tummy, or upper arms, ThermiTight can tighten those areas without surgery and no downtime, and it is an excellent complement to other body treatments such as CoolSculpting®.
Your surgeon makes a small incision and inserts a special probe that heats tissue, causing fat cells to shrink and the skin to contract and tighten.
In most cases, only 1 treatment is needed, and the results appear gradually as the heated tissues begin tightening. The results have been shown to last for years. A local anesthetic is applied to the treatment area to limit discomfort during the procedure. Some patients report feeling pressure or warmth, but not pain.
ThermiDry
Excessive underarm sweat can cause embarrassment both in your professional and social life. Men and women concerned about excessive sweating — a condition called hyperhidrosis — often avoid making presentations at work or are self-conscious about raising their arms in social settings. Surgical removal of the sweat glands poses the risk of complications and taking time off to recover, while BOTOX® treatments need to be repeated every few months.
ThermiDry uses the ThermiTight technology to target sweat-producing glands under the arms. Heat generated by radiofrequency energy disables the sweat glands during an outpatient procedure that doesn't require downtime. Your surgeon numbs the area with a local anesthetic before inserting a tiny probe into the skin to deliver the controlled radiofrequency energy. The results can last for years.
ThermiSmooth®
ThermiSmooth also uses heat from radiofrequency energy, but it is completely noninvasive, meaning we treat only the surface of the skin. ThermiSmooth is a facial skin rejuvenation treatment that smooths wrinkles and crepey skin. It is an excellent option for "smile lines" around the mouth and wrinkles or skin laxity under the eyes.
In a series of treatments scheduled weeks apart the ThermiSmooth procedure triggers the production of new collagen, one of the essentially components of smoother, more youthful looking skin. During the procedure, an applicator is gently moved across the treatment area, which we cover with a small amount of gel. You may feel warmth during treatment, but each session is quite comfortable and takes just a few minutes depending on the area you want to target.
ThermiRase®
ThermiRase is an alternative to BOTOX® Cosmetic injections, as it reduces the appearance of vertical "worry lines" between the eyes. The treatment involves injecting radiofrequency energy in precise locations to disable nerves that control the tiny muscles whose movements create these grooves, sometimes called "frown lines." Treatments are quick, and results are long lasting.
How to Visit Us in Marietta
Because of our top-notch patient care and beautiful results, Plastic Surgery Center of the South has built a strong reputation in the region. If you are interested in visiting our Marietta practice from a nearby community, choose your area below to get easy-to-follow driving directions.
Roswell
Canton
Smyrna
Douglasville
Kennesaw
Woodstock
Back to Top