If you do an online search for the term "How much does a mommy makeover cost," prepare to see an endless number of replies! That's because the cost is a key piece of the puzzle when choosing to undergo a mommy makeover in the Atlanta, GA, area. Whether you're considering a mommy makeover to tighten your midsection, lift your breasts, or get rid of those love handles, you'll want to prepare your budget for your makeover.
If you feel strongly that a mommy makeover can benefit you, don't let cost worries put you off. The best thing you can do is understand the components that go into a mommy makeover and the factors that can affect the total cost.
Average Cost of Procedures Commonly Included in a Mommy Makeover
Here are some standard procedures included in a mommy makeover and the average cost in the U.S. for each, outlined by RealSelf.
Breast augmentation: $6,575 (In metro Atlanta, the average price is $4,335 to $5,085)
Breast augmentation with lift: $9,025
Tummy tuck: $8,375
Liposuction: $6,550
Other procedures can be included, of course. Some women, for example, have ThermiVa® in their mommy makeover to tighten vaginal tissue impacted during childbirth.
One benefit of choosing a mommy makeover is that it's easy to customize your procedure based on the areas you want to improve. However, remember that each procedure you include will increase your surgical time and the cost of your mommy makeover.
What Is the Average Cost for a Mommy Makeover?
RealSelf reports that the average mommy makeover cost ranges from $5,000 to $20,000. However, several factors determine the price, including the city you're in. Costs in large cities such as Los Angeles, NYC, and Chicago tend to be higher than in smaller towns. Other factors include the plastic surgeon's credentials, the anesthesiologist's credentials, and whether you have surgery in a surgery center or hospital.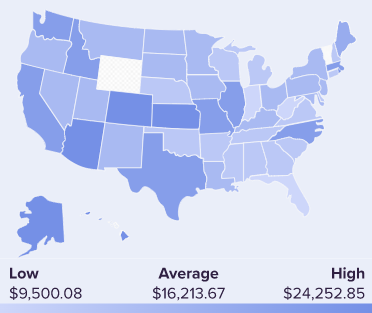 Possible Costs Included in Your Mommy Makeover
Your plastic surgeon works with a team of medical professionals, including anesthesiologists. Anesthesiologists' fees are usually separate from the plastic surgeon's fees and will factor into the overall cost. Other costs to consider are:
Operating room fees
Surgeon's fee
Supply costs such as breast implants
Fees associated with an overnight stay (if necessary)
If you include breast implants in your procedure, your choice of implant will affect your cost. For example, saline implants cost about $850, but cohesive silicone gel implants usually run about $1,600.
The number of areas treated will also affect costs, especially for liposuction. For a single area, physician fees for liposuction are typically $750 to $3,000. The more sites you have liposuctioned, the greater the cost.
Your plastic surgeon will discuss the total cost with you during your consultation based on the procedures included in your mommy makeover.
The Cost Savings of a Mommy Makeover
While a mommy makeover can come at a higher price tag based on the number of procedures you choose, there are some benefits. You will have one-time anesthesiology and facilities fees. If you were to have these procedures separately, you would have to bear the cost of separate anesthesiology and facilities fees for each one.
And don't forget to factor in the cost savings of having only one recovery period rather than 2 or 3. Minimizing time away from work or household obligations can save you money in the long run.
Choosing a Plastic Surgeon for Your Mommy Makeover
When choosing your plastic surgeon, focus on their credentials and experience in mommy makeovers rather than cost. A board-certified, experienced, and skilled plastic surgeon will get you the best results from your mommy makeover. A less reputable plastic surgeon may offer lower rates, but your results could be less than satisfactory and lead to the costs of corrective procedures.
The American Society of Plastic Surgeons offers resources to help you find a qualified and experienced board-certified plastic surgeon in your area. Remember, you are trusting your surgeon with your physical well-being, so it's essential to choose someone with the highest qualifications and experience. As we've said before, you can't put a price tag on your safety and satisfaction with your results.
The Surgical Facility
Typically, a less researched component of a surgical procedure is the facility where the procedure will take place. Similar to choosing an experienced plastic surgeon, you want to ensure that the surgical facility is state-of-the-art and well-equipped.
Look for a surgery facility that is AAAASF-accredited, which means it meets the highest standards for operating room safety. Find out what steps they take to ensure your safety and their protocol if you need to be transported to a hospital.
Ambulatory surgery centers generally charge much lower fees than hospitals. Some figures show that surgery center fees are 45% to 60% lower than hospital charges.
Should You Compare Costs When Choosing a Plastic Surgeon?
While cost shouldn't dictate how you choose a plastic surgeon for your mommy makeover, it's OK to compare pricing once you have selected a pool of board-certified plastic surgeons. Some things you should do before comparing costs is to schedule a consultation with your top picks, review their credentials, review before and after photos, and check patient testimonials.
Can You Finance Plastic Surgery?
Yes, many plastic surgery patients finance their procedures to spread their costs over time. At Plastic Surgery Center of the South, we offer financing through companies like CareCredit® and ALPHAEON®. You can learn more about both on our Fees and Financing page.
A mommy makeover is about making you feel happy and confident as a mom and a woman. Your mommy makeover experience can be a safe and positive one with the right plastic surgeon by your side. You can see some of our satisfied mommy makeover patients in our before and after gallery. If you are ready for your own mommy makeover journey, request a consultation or call us at (770) 421-1242 to schedule an appointment.