Beat the Heat With Summer Safety Tips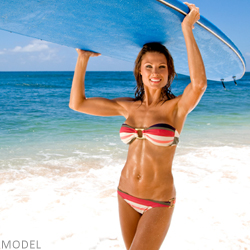 Summer is in full swing, so we all have sunshine on our minds. We've probably got it on our skin, too! If you're spending lots of time outdoors soaking up the rays this summer, be sure to protect yourself with good-quality sunscreen applied early and often. Remember to apply sunscreen of SPF 30 or greater about 20 to 30 minutes before heading out, and then again every hour or so.
Check out these other helpful summer tips:
Mind the heat. Make sure you stay hydrated and wear appropriate clothing as the mercury rises, especially when doing intense activities such as hiking or biking.
Bug off. Keep insects at bay with appropriate bug sprays or other products.
Watch your pets. Be sure your dog or cat is getting enough water, and never leave your pet in a hot vehicle.
Have a safe Fourth of July. If you have children, be extra careful grilling out or lighting fireworks.
To help keep your skin in great shape this summer, consider a high-quality sunscreen or other product from one of our lines at the Plastic Surgery Center of the South, including Obagi® and SkinCeuticals®. If you'd like to set up a skin consultation at our office in suburban Atlanta, call (770) 421-1242 or visit our website.
Natural Enhancement Through Fat Grafting

At the Plastic Surgery Center of the South, we like to stay ahead of the game when it comes to innovative techniques and technology. One of the most interesting advancements that has been made in the field of plastic surgery in the past few years is the rise of fat grafting.
This procedure, which has roots in liposuction, involves carefully removing unwanted fat from one area of the body and using it to correct deformities or irregularities in another. In the past 5 years or so, plastic surgeons have made great strides with this technique, popular because it uses patients' own fat to enhance their look. It is now commonly used on many different areas of the body.
The donor fat is usually taken from areas such as the abdomen, thighs, or buttocks and used to fill in sunken areas of the face, for instance, or for buttock augmentation. One of the most innovative uses of the donor fat has been for enhancing the breasts.
In years past, fat grafting had been used on the breasts only in small amounts for reconstruction, but now much larger amounts can be safely transferred using new tools and techniques. Fat grafting is now used as part of all of the following breast procedures:
Breast enlargement with or without implants
Breast lift with or without implants
Breast reduction contouring
Removal of implants after complications
Breast reconstruction after mastectomy
Patients find that fat grafting comes with many benefits. Not only does it fill in areas of the face, body, or breasts where enhancement is needed, but it also slims the area where the fat was removed. Plus, because the fat is taken from a patient's own body, there's no risk of an allergic reaction as could occur with other synthetic materials.
If you are interested in finding out how fat grafting can enhance your look, visit our website for more information, or call us at (770) 421-1242.
Party Time With BOTOX Cosmetic
Does your face need refreshing? Then grab some friends and RSVP to our next BOTOX party, where you can give your eyes a quick rejuvenation and get back to your summertime fun.
The party is from 5 to 7:30 p.m. on Tuesday, July 16. Call
(770) 421-1242 now to reserve your spot!
Summer Specials
Summer sizzles with these hot deals! Here's what you can look forward to in the next few months:
$1,000 Off Face/Neck Lift
For the month of July, save a grand on a full face/neck lift procedure.
$1,500 Off Mommy Makeovers
Good in August, this offer applies to new consults. A 10% deposit is due in August, and the surgery must be completed within 3 months.
Our Can't-Miss CoolSculpting® Deal
Just $500 for a small area and $900 for a large area.
Our Latest Blogs
Check out what our doctors are talking about on the blog of the Plastic Surgery Center of the South.
The Benefits of Medical-Grade Skin Care
Is investing in skincare products from your plastic surgeon really worth it?
Liposuction: It's Not Just for Your Waistline
See where else Dr. Petrovsky uses liposuction to enhance his patients' look.
Which Suits You Best: CoolSculpting® or Liposuction?
Let Dr. Musarra help you decide which treatment would work for you.